Enabling iGPU on Macbook Pro 10,1 (Retina mid-2012) with Windows 10
September 13, 2020 10:31 am
Hello everyone,
I'm getting here after a (way too) long journey with no success in enabling the iGPU on Windows 10 and I really hope someone in here can help me out as I'm running out of options.
Macbook Pro specs:
- 10,1 Retina mid-2012
- CPU: 2,3 GHz Intel Core i7
- RAM: 8 GB 1600 MHz DDR3
- iGPU: Intel HD Graphics 4000 1536MB
- dGPU: NVidia GeForce GT 650m
- macOS version: 10.14.2 (Mojave)
Windows Installation:
- Created a Partition Manually (as the Boot Camp procedure would result in a black screen with "no bootable device detected"), installed Windows 10 on it via USB and then installed all the bootcamp drivers.
- Windows version: Windows 10 Education, Build 17763.rs5_release.180914-1434
- Followed this guide to override the DSDT in order to make the sound work in Windows
- rEFInd installed
The Problem:
Windows sees correctly both the iGPU and dGPU in Device Manager but I'm not able to use the iGPU resulting in Windows using only the dGPU with consequent overheating, fan noise and battery drain.
The goal is to get Windows to use the iGPU for soft tasks and the dGPU for gaming and heavy tasks.
Here's a screen of the Device Manager: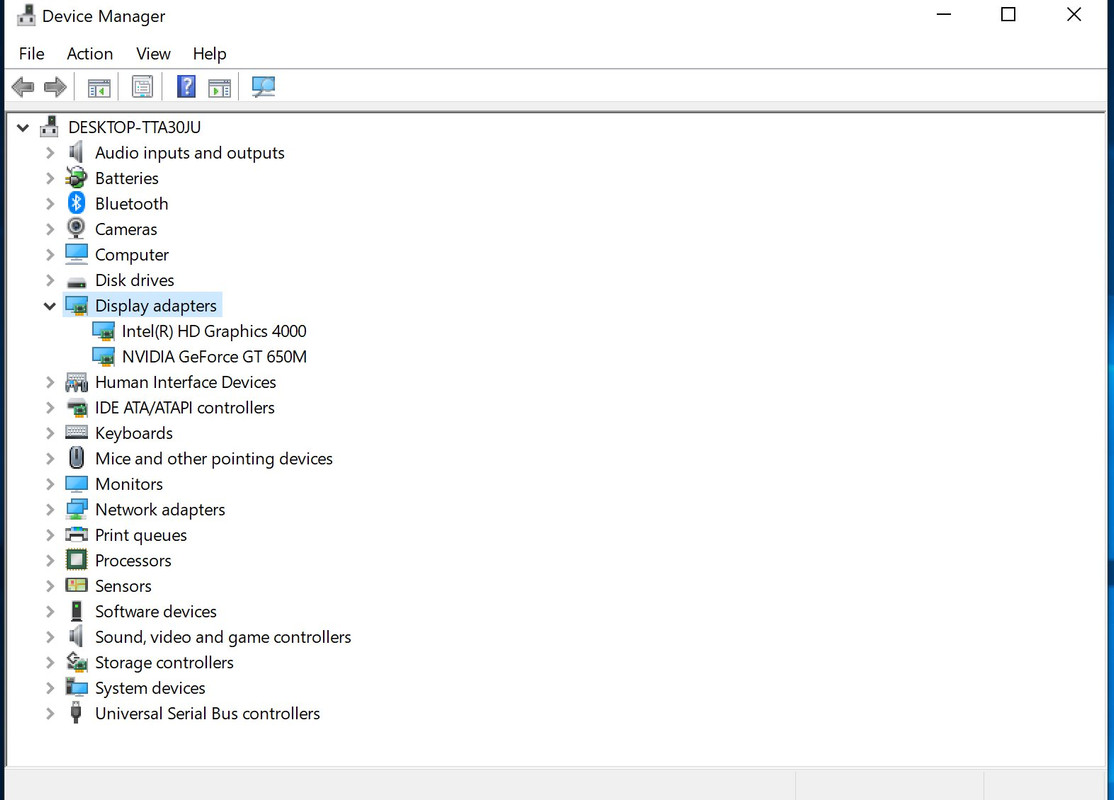 Here's a screen of the iGPU not being usable: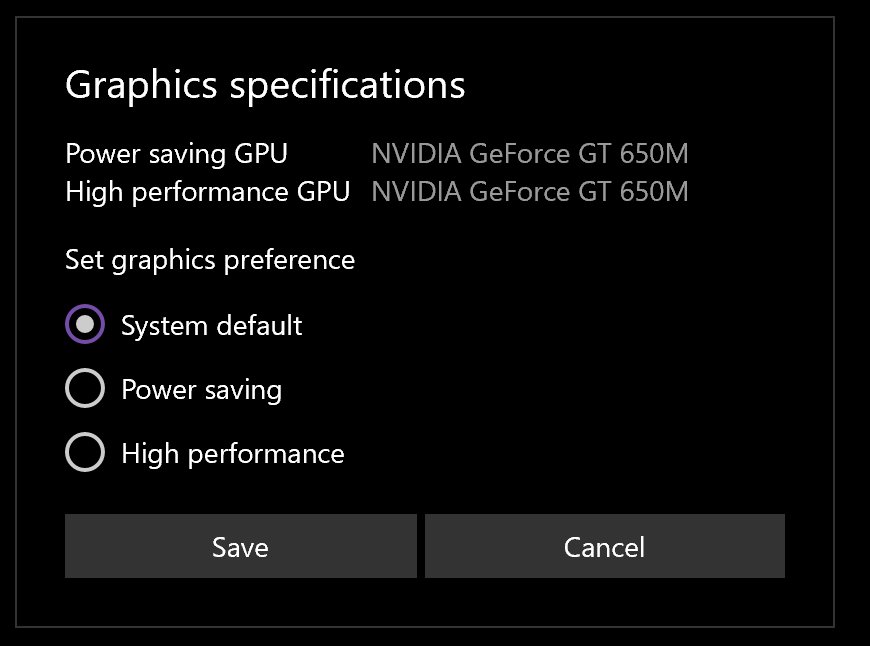 Attempted solutions:
So this led me here and to @goalque's solution and this is the list of things that I have tried (unsuccessfully):
- Wasn't able to use automate-eGPU.efi on USB stick cause it didn't show up neither in rEFInd nor in the "option" menu so I put automate-eGPU.efi in /Volumes/EFI/custom folder and it did show up in rEFInd but it got stuck in the loading screen, forcing me to shut down through power button.
- Then I found this and tried apple_set_os.efi. Even with this I wasn't able to boot it from USB stick, so I proceeded to put it in /Volumes/EFI/custom but again it seemed stuck after the "set vendor to Apple Inc.".
- As it was noted on the thread, I tried using the rEFInd spoofing function and yet I wasn't able to use my iGPU.
- Further searching on the forum took me here to @aa15032261's modified version of apple_set_os.efi. It showed up on rEFInd but it sort of kept looping and flashing some text on screen (it seemed like the procedure worked since somewhere there was a "press any button to continue" but clearly it didn't as it stuck again on that screen.
- Using gpu-switch script to force Windows to use the iGPU results in a black screen when booting Windows and then it restarts over and over so that I have to get into Safe Mode and run the dedicated.bat script.
- This thread was probably the closest situation to mine since I too have installed Windows in UEFI mode but no success again.
I am surely missing something, maybe I should upgrade/downgrade to a different macOS version, maybe I should install Windows in a different way or maybe there's simply no way to make this mac use both GPUs in Windows.
I apologise in advance in case this is already a closed case but I wasn't able to find anything more on this.
At this point I really know what else to do. If someone has some suggestion it would be really appreciated.
This topic was modified 2 months ago
To do: Create my signature with system and expected eGPU configuration information to give context to my posts. I have no builds.
.