Late 2012 i7 iMac 27 + RazerCoreX + 750 ti - am i doing right?
Hi, i'm new here and i'm following this forum from weeks now.
After reading and watching lots of tutorial i've decided to Buy a Razer Core X for my iMac Late 2012 with i7-3770, 32Gb Ram, no iGpu, Nvidia GTX 680MX as dGPU with my old Nvidia GTX 750 Ti as eGPU (i'll buy something better if this setup works)
My steps:
- Safe mode, integrity protection disabled (catalina)
- Bootcamp partition
- Clean Windows 10 pro h20 install
- Bootcamp drivers
- DDU tool for "stock" Nvidia Drivers
- Clean install for latest Nvidia Drivers + Geforce Experience
- Window Display settings -> set "Use only monitor 2" (egpu output)
- Disable GTX 680MX (get error 12 on this when i use the eGPU)
Nvidia Control panel and windows device manager finds the eGPU correctly,
Questions:
1) If i shut down my eGPU, Windows can still boot up to my desktop. How? The eGPU is detached, the dGPU disabled and this i7 comes without iGPU! Do i have to unistall the eGPU?
2)  CSGO runs ok but some games do not load using eGPU setup (like Doom Ethernal or Death Stranding with 1.1patch) but, if iswitch back to the dGPU with low specs, everything works.
I think that the points 1 and 2 are connected. Maybe a new card could resolve everything. What do you think?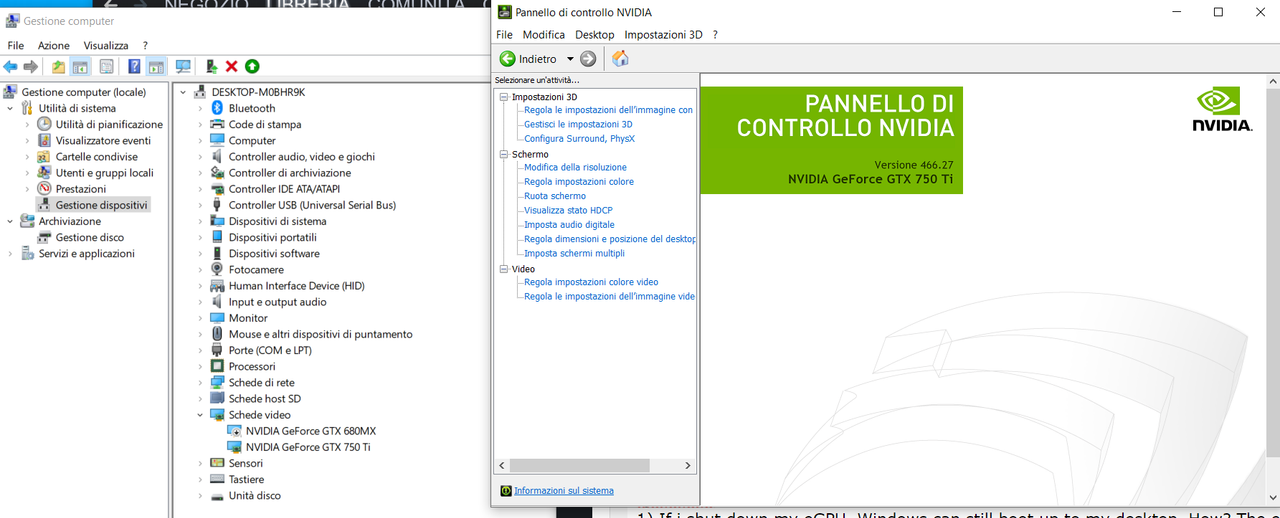 Tank you!
Oscar
This topic was modified 1 month ago