[Solved]

2013 Mac Pro (nMP, 6.1, 2013, Trashcan) eGPU Setup Master Thread
@exirion, could you perhaps do a screenshot of those PCI Bridges please. I dont understand all those numbers. Thanks
@exirion, could you perhaps do a screenshot of those PCI Bridges please. I dont understand all those numbers. Thanks

 
Sure, here it is: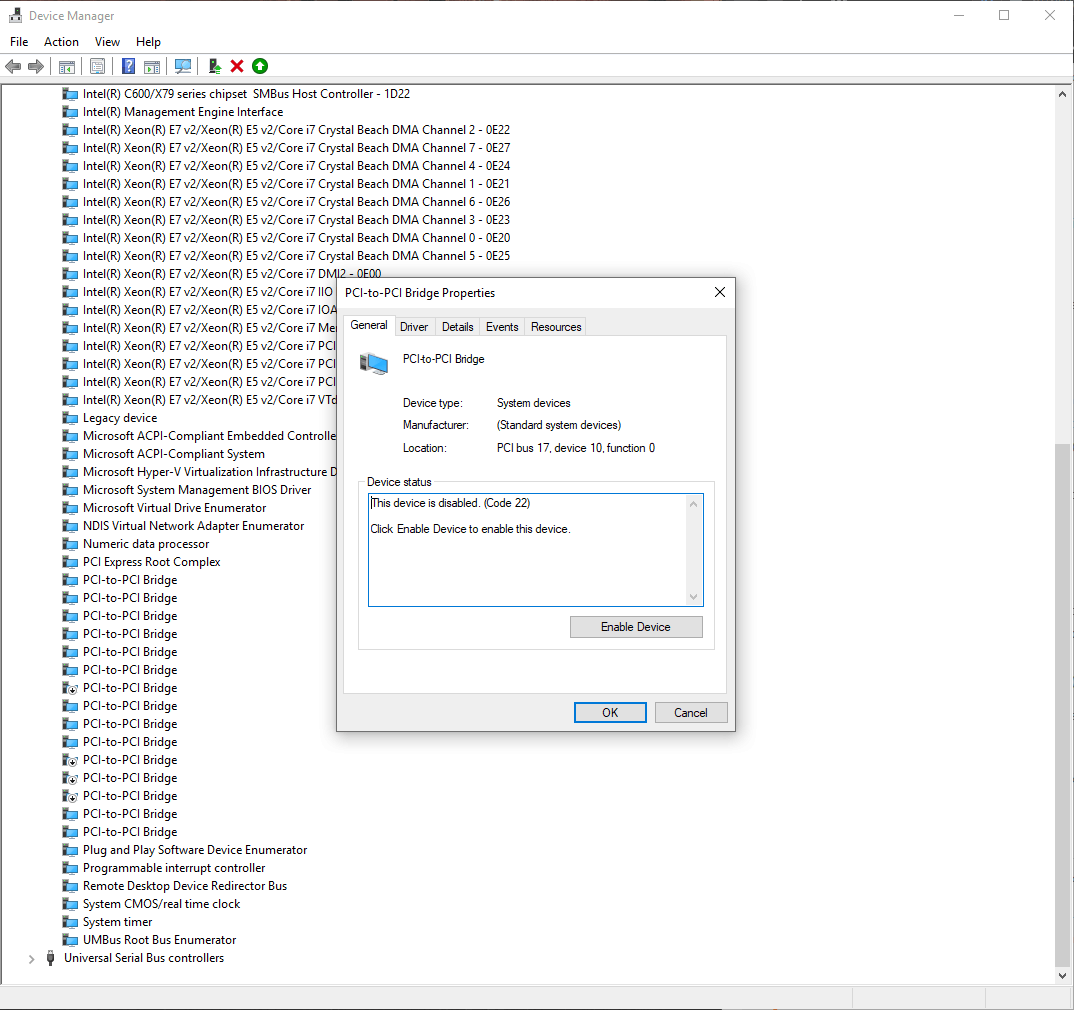 The numbers refer to bus, device and function combinations.
To do: Create my signature with system and expected eGPU configuration information to give context to my posts. I have no builds.
.
I was able to get my Mac Pro 2013 working with my Razer Core X and Radeon RX 590.
I basically did what Exirion did. However, I did cause a crash disabling PCI-to-PCI Bridge 17-10-0 second.
I unintentionally did a Windows update that re-enabled all of the bridges and just had to disable them again and then restart. I did 17-10-0 last this time without any crashes. So far so good. I can switch back and forth between macOS and Windows just fine.
This post was modified 6 months ago
To do: Create my signature with system and expected eGPU configuration information to give context to my posts. I have no builds.
.
I've been trying to do this but can't seem to get it to work. My issue is that when I plug the egpu, windows doesn't seem to detect anything. I don't get any error be it 12 or 43, there's no change in the Device manager. 
I use apple's TB3 to TB2 adapter and an apple TB2 to TB2 cable  (the shortest one they sell). Could that be the problem? What cables are you using?
Is the extract-efi step still needed? 
Also, I've noticed based on the screenshot from Exirion that he has about 3 times as many PCI-to-PCI bridges in his device manager.
My mac has the boot rom 132 and the latest mojave security update. 
I did get it to work on my MBP so I know that the egpu and the graphic card work (but the cable for the mbp is different)
Hmm.. I replied to you a few days ago but it doesn't seem to have been posted.
I'm using the TB3 to TB2 that you have. I'm using an OWC TB2 to TB2 cable. The Apple one should be fine.
I'm not using extract-efi. Just purge-wrangler, not special EFI boot volume.
I only needed to disable the 4 PCI bridges with my 6 core Mac Pro.
My mac has boot rom 135 and the latest Mojave updates as well.
One update though. I upgraded my Mac Pro to a 12 core CPU last night and the eGPU is no longer working. The card is getting an error 12. I'm going to try disabling additional PCI bridges others have mentioned.
This post was modified 6 months ago
To do: Create my signature with system and expected eGPU configuration information to give context to my posts. I have no builds.
.
@ajeatssushi, Thanks a lot for the update. I wonder if the cable if the TB2 cable I have has an issue. I did notice that if I turned it around, the Core X would no longer light up. So will try that.
I'm still on Mojave (keeping it on the mac pro for 32 bits applications and games) and while the mac detects the egpu, my card (RX5700 XT) is not compatible with mojave so can't use that to to test. I'll try and create a separate Catalina installation to test.
 Also which version of windows are you using? I'm using 1809 as it's the one that seemed to work with people here.
I'm actually also going to change my  CPU soonish but would prefer to get that working correctly first
This post was modified 6 months ago
Okay, so I finally found some time to get back to troublehshooting my setup. Like I mentioned, after my CPU upgrade my eGPU setup stopped working. I tried disabling more PCI bridges but nothing helped. I decided to see what happens if I just re-enable all of the GPUs and then start from scratch. That didn't work. So I tried disabling just the 4 PCI bridges I did before. Nothing. I did a driver reinstall using Safe Mode -> DDU -> bootcampdrivers. Ended up with a black screen for about an hour before I forced a shutdown. It restarted with no new problems but the eGPU still wasn't working.
So, I was thinking, maybe when systems are updated, they get updated based on the existing hardware and my CPU borked some mapping it might do. Maybe a system update of some type might fix it. So I uninstalled the most recent system update and boom! eGPU working again. I don't know if that really fixed it but things are working again and I'm happy.
My current working build is 1903 build 18362.1 Unfortunately, I don't know the build number that was installed when I did the CPU upgrade end of March.
I looked to see if I have Large Memory and I do not.
This post was modified 5 months ago
To do: Create my signature with system and expected eGPU configuration information to give context to my posts. I have no builds.
.
Oh, I wonder if the issue you run into was because of the issue listed in this thread https://egpu.io/forums/pc-setup/egpu-fail-after-update-to-windows-19-03/
For me the weirdest issue is that my egpu is not even detected... Despite the same egpu being detected with the same cable on macos x (but not working due to mojave). I'll have to test using an external hard disk and installing catalina there...  
Hello Guys ,
So I'm Trying to setup MacPro Late 2013 with Egpu ! Quite an adventure !
1. Build
---
MasOs High Sierra 10.13.6

Xeon 1680V2 D700 Apple 1TbFlash 64GbRam

Boot ROM Version: 135.0.0.0.0

MAC NVIDIA Web Driver: 387.10.10.10.40.135

MAC CUDA Driver Version: 418.163

WINDOWS NVIDIA Graphic Driver 442.19 Studio
Dell Monitor DisplayPort + iMac2009 Traget Mode MiniDisplayPort + Acer Monitor HDMI
Windows 1809

Windows 10 Pro N for Workstations

Version 10.0.17763 Build 17763

OSbuild 17763.1098
Hardware
Nvidia Geforce GTX 1080Ti Zotac AMP Extreme Edition

TB3>TB2 Apple Adapter
Egpu Plug into Bus_0 Left Thunderbolt Port
 2. 

Setup MacOs
---
 First I Tried the truly awesome Purge Wrangler  6.2.3 : https://github.com/mayankk2308/purge-wrangler/releases
I Followed step by step the super neat, very tidy and well explained wiki page from here: https://github.com/mayankk2308/purge-wrangler/wiki/Beginne r's-Guide
 Awesome Job Mayank Kumar !!! Thanks a lot !
Disable SIP + Reboot + Install Script + Nvidia Drivers…No flaws, installs works like a dream, GPU recognized , Nvidia Drivers Installed.
Boom !!! Here we go
Tried a few AdobeAfterEffects_2020, and DavinciResolve_16 Tests, both recognize the EGPU and use it ! Checking done via custom Benchmarks and iStatMenu.
Only weird thing I noticed from the Terminal Log is :
Found 7 devices supporting GPU computation.




CUDA Device 0 -* Not chosen because of kernel failure.
Hum... interesting... I did not had time to run tests in C4D with Redshift to see if its a CUDA issue or just an AdobeAE issue.Will do in the future.
So far overall its great ! Roughly x3 Perf increased compared to D700. Will try more tests with ProSoftware in the near future.
I had some hard times to make my 3 Displays to work perfectly at the same time tho… Lots of random black screen of death but my setup might be to blame. I am sticking with only two Displays for now. Will fix that later.
Now the real tough Part.
3. Setup Windows 10
---
 Update system to latest 1809 version available for me as I differ update, so  build is now : 
1809 - 17763.1098
DDU all previous Drivers from the great AMD_UnofficialBootCampDrivers + Reboot.
https://www.bootcampdrivers.com
After endless reading and searching, slapping my face and banging my head around the many builds and pages and contradictory informations I ended up here :
https://egpu.io/forums/mac-setup/automate-egpu-efi-egpu-boot-manager-for-macos-and-windows/
Download 
https://egpu.io/wp-content/uploads/2018/10/EFI.zip
I tried with MacOs First after uninstalling Purge Wrangler to compare the two solutions. Works as well, so far so good. So now lets try it with WindowsBootCamp.
FAT32 format the USB stick and then Copy/Paste folder structure from EFI zip package.
Removed apple_set_os.efi from EGPU_Boot_USBstick/CLOVER/ACPI/drivers64UEFI/ as mentioned on the EFI main Page :
"Please also remove if you are using the nMP or Mac Mini."
My 15 First attempts to boot from the usb key EFI ended up with frozen computer screen as soon as I hit Boot in Windows Option…Force Reboot...Retry...Keeps failing...Freezing...
So I ended up trying with the apple_set_os.efi = No luck / Still freezing.
Removed apple_set_os.efi again.
Downloading pre-compiled DSDT override files for Apple_2013_MacPro.zip
https://egpu.io/public-repository-egpu-dsdt-overrides/
Add it to EGPU_Boot_USBstick/CLOVER/ACPI/WINDOWS/
No Luck still frozen on EFI_WindowsBootOption.
Compiling my own dsdt-modified.aml  using the Intel Method from this page tutorial :
https://egpu.io/forums/pc-setup/fix-dsdt-override-to-correct-error-12/
Long and painful process fixing compiling errors, but Finally it worked.
Replace old dsdt-modified.aml with custom home made one. Rename to dsdt.aml.
Boot in Windows Worked !
Checking Memory Allocation from Device Manager 
NO LARGE MEMORY  : (
Tried to Install Nvidia Drivers = Unable to Install Graphic Drivers, no Nvidia Hardware detected…Ok, Ok, Ok...
Checking Device manager PCI-to PCI Bridge = error 12 and error 45…
Reboot from EFI. Same no change. No Large Memory
Disabled These PCI-to PCI Bridge:
PCI slot 4 (PCI bus 21, device 5, function 0)
PCI bus 17, device 10, function 0
PCI bus 21, device 0, function 0
PCI bus 0, device 30, function 0
+ Disable Microsoft Basic display Adapter ( The D700 not driving the plugged Display )
Reboot in MacOs
Reboot in WindowsBootCamp with EFI USB
Boom ! Nvidia Control Panel Installer pops up the second I log in windows… good sign ?
Well not really...Still No Large Memory from Device Manager : (
But now I can see the NVIDIA GeForce GTX 1080Ti from Device Manager/Display Adapters …
But => Windows has stopped this device because it has reported problems. (Code 43)
Installing Nvidia Graphic Drivers 442.19 Studio Version.
This time the Nvidia installer Worked and accept to install The Driver.
Reboot from EFI USB. Same situation. No Large Memory allocation.
Testing with AdobeAE => No GPU Detected.
So for now that's where I am stuck sadly … I saw that despite the fact That I did a clean DDU of all old AMD Drivers before starting the process I can see some and drivers referred among the Nvidia 1080Ti... I m confused...
Anyway that's where I am at the moment...
Big shout-out to @Mac_Editor / @Goalque / @nando04 / @itstage /  @fr34k / @yukikaze / for their incredible support to the community !!! 😉 Outstanding Job Guys ! Thx a Million !
I guess getting the Large Memory allocation is mandatory before getting rid of this Code 43... 
Any Smart idea or Fix to try ? Any help would be highly Welcome !
Thank you !
Edit 1 : From a few other posts around I noticed that apparently Nvidia Bootcamp is an impossible combo to get going.
I can't quite understand why so far... 🙁
Edit 2 : I had some severe issues using eGPU driven Display with dGPU driven display at the same time. Unresponsive, slow, unstable... The iMac 2009 used as Target Display was not working at all ( Black Screen of Death ). Even if connected to the eGPU with target mode the iMac would NOT display anything than a black screen. My workaround for now is to use the amazing set-Egpu script from https://github.com/mayankk2308/set-egpu#pre-requisites  , to force eGPU usage for targeted applications not as smart as DaVinciResolve for instance. Just Awesome ! So the main Display is iMac TargetMode on BUS1-Port1 and secondary Display is DellMonitor on BUS2-Port2. NodeTitan eGPU still on BUS3-Port5. Work perfectly so far. Cheers
This post was modified 5 months ago
So, current status of my Mac Pro - in short, still working fine.
I'm currently running Windows 10 (2004, 19041.172) with the same hardware setup as before. Unfortunately, the new batch of AMD drivers from bootcampdrivers.com (from January 2020 onwards) are not playing well with the Mac Pro, particularly, it seems, those with dual D700s (which mine has) - severe instability is par for course, with displays going either black or black with vertical lines running through it. Drivers from November/December 2019 are perfectly stable, however.
I've disabled every possible PCI-to-PCI bridge (basically, any PCI device that doesn't have anything attached to it) as well as some kind of Memory Map device. Oddly enough, I now get the AMD XConnect tray icon and notifications saying I have an eGPU connected, but it doesn't really work particularly well - if I try and use that app, it just causes crashes and instability. The easiest way to use my eGPU has been, as before, just plugging my monitor directly into it which forces it to become the primary GPU. 
The author of bootcampdrivers.com is aware of the Mac Pro issues but hasn't given an indication of being able to fix them any time soon. He just released the April drivers which exhibit the same problems, and he's also stated that he's going on hiatus until August. Performance on the older November/December drivers is fine, but definitely not as good as the current ones (occasionally, the new drivers will work but it's really just up to chance from what I can tell).