System specs:
Base laptop is a Dell Precision M6700:
CPU: i7-3720qm Overclocked to 3.8Ghz all cores
dGPU: Quadro K3000M 'Gigahertz edition' Overclocked to 1006Mhz (there is no iGPU with eDP panels)
RAM: 2x8GB (16GB) HyperX Impact 1600Mhz
Storage: 256GB LiteOn mSATA SSD + 2x 750GB Toshiba 2.5in HDD in RAID 0
Screen: 17 inch 1920x1080 @ 120Hz + Nvidia 3D-vision (Samsung LTN173HT02)
Other stuff: Backlit keyboard, ePort Plus II w/ USB 3.0 dock, (will eventually have 4G LTE, but no WWAN card currently), Swipe Fingerprint reader, bluetooth 4.0, B/G/N Wifi (will upgrade to AC at some point)
eGPU hardware:
This is where it gets interesting:
eGPU enclosure: EXP GDC Beast V8.4c
eGPU: Gigabyte Windforce OC GTX 1080
eGPU PSU: Dell DA-2 (yes, I know the GTX 1080 pulls more than 220W, it's power limited to 85%, both of my desktop PSUs failed and I'm waiting on a replacement!)
USB Fan Mod: Windows driver conflicts cause the eGPU's fans to run at full speed because there is 2 Nvidia cards in the system, the card literally sounds like a vacuum cleaner, so I just unplugged the fans and wired them to a USB cable then plugged them into the USB on the eGPU dock, it works surprisingly well, they aren't too loud and the card stays cool.

Hardware pictures:


https://imgur.com/a/uWA3dtJ

Installation steps:
the eGPU was pretty much plug-and-play on this laptop, no BIOS mods or DSDT override. Just plug it in, power the eGPU and boot up the laptop, needed to run Nando's error 43 fixer script to install drivers and get it working. Also in order to get full performance you need to disable the dGPU
?width=1148&height=703
more coming soon...
Comments:
I had ~$300 for a new GPU, the options were a 980m MXM card or a Vega 64/GTX 1080 eGPU, I was waiting for a Vega 64 but a 1080 (with NOT a blower style cooler) showed up for only $275 so i bought it. Windows 10 has some bluescreens randomly, but it's windows 10 so I had it do that without the eGPU, it's just kind of trash. Feel free to ask questions, and ill say it again, I know a 1080 @ 4Gbps is extremely bottlenecked, but it's still cheaper than buying parts for a desktop and WAY better than a 980m so....
This topic was modified 3 years ago
I have a precision M6700 with a GTX 1080 eGPU (Expresscard 2 @ 4.0Gbps, EXP GDC) and I noticed that other expresscard GTX 1080 setups are scoring way higher than my setup, even setups which also have an Nvidia dGPU (that has been disabled, I also disabled mine but it's still active as a basic display adapter, I ordered eGPU setup 1.35 to try and manually disable the dGPU completely and see if it helps, but other than that idk.  I have tried newer drivers, older drivers, putting the dGPU in an errored state, disabling other PCIe devices, but nothing changed.  I do have lower performance when the dGPU is enabled though. For context A desktop 1080 gets ~24k in Firestrike graphics, I've seen multiple expresscard setups that get ~17.5-18k, but mine only gets ~15k. (Link to my setup with benchmark screenshots)
Limiting power to 85% of the GTX 1080 is one good reason for the perceived lower performance. This will decrease turbo boost clocks.
As for the dGPU issue, there may be an Optimus option in the M6700 BIOS. Enabling it will enable the iGPU + dGPU and wire the internal LCD to the iGPU. Then can disable the dGPU to provide PCIe space to host the eGPU.
There is not an optimus option, the iGPU is only available if you are using an LVDS panel, I am using an eDP panel which is connected directly the the dGPU, I know that power limits could be causing some loss in performance, I will test later once a new PSU comes in that can actually handle the GPU. It is rarely power limited (GPU-Z shows limits) and it still turbos to 1900+ Mhz though so I don't think that's the whole story.  I tried changing some options in your eGPU setup 1.35 and immediately noticed that changing absolutely nothing and trying to select 'Chainload OS from mbr' from the main screen results in a black screen once windows loads drivers. What could be causing this? I have no issues with error 43 and it works perfectly fine when just booting straight into windows.
Ensure the GPU-Z bus interface shows x1 2.0 when you click the "?" to do a render test. If so, there are no further Setup 1.35 optimizations.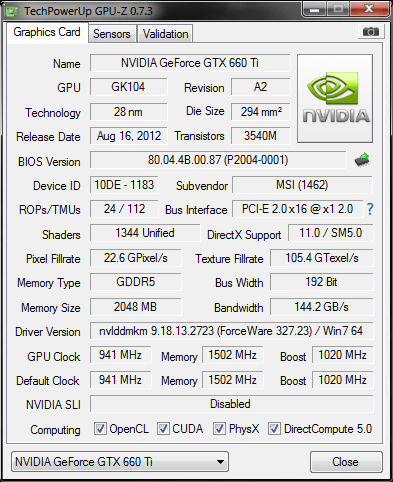 Can proceed to optimize your configuration by:
1. Attach an external LCD instead of accelerated internal LCD mode (Optimus) to ensure bandwidth is dedicated to eGPU rather than display rendering traffic. There display traffic goes straight out to the HDMI/DP/DVI connector.
2. Disable the eGPU audio device and use the notebook inbuilt speaker. Again to ensure the bandwidth is dedicated for eGPU traffic.
3. Set NVidia Inspector 'Frame Rater Limiter V2' to 59 or 60Hz, matching your external LCD. This will prevent the eGPU rendering redundant images.
1. I already have external monitors connected, the internal one's performance is awful (less than half of my already not great performance) (I normally have 3 monitors connected to the eGPU, and yes I tested with just 1)
2. I already have disabled the eGPU and dGPU's audio devices as well as the dGPU and PCI-to-PCI bridges that don't contain the eGPU
3. I just set 'Frame Rate Limiter 2 Control' (there is not option for Frame Rate Limiter V2) to 0x00000090 (144) because that is my main monitors refresh rate but it made a negligible difference (15288 vs 15447)
Edit: Forgot to mention that yes, the link is 1x 2.0 in GPU-Z

The only other thing it could be is power limitting, which I don't think should cause a 15% performance loss but I will test it, sucks that I spent the time converting my windows install for UEFI to legacy and installing your eGPU setup for no reason though...
Edit 2: tried setting power limit to 108%, made almost no difference, 15.6k graphics score, I have no idea what could be causing it, the GPU scored ~22.8k on a regular system at 16x so it's not the card...
Edit 3: I'm even more confused... I installed the exact same driver as ChimyChunga (373.06) and my score went up noticably but still not to 17k, got 16.3k... so maybe it is a driver thing, keep in mind I disabled the PCI bridge with the quadro dGPU in it and the drvier is not compatible so the card doesn't even show up in device manager or as a second gpu in 3dmark so I feel like the issue I'm having is caused by the dGPU but there is no way to disable it because it is the only GPU in the laptop, there is no iGPU so I guess this is the highest score I will be able to get without so good Overclocking...
3Dmark Firestrike with 373.06 driver
Edit 4: I never had any issues with my RX 480 eGPU with an Nvidia dGPU, but now that both cards are Nvidia I am having some weird issues, so what if I flip it? My new plan is to swap in an AMD dGPU and see if I have any more performance issues...
This post was modified 3 years ago
In case you missed it ..
Running a dGPU and eGPU from the same family (Nvidia or AMD)
A dGPU and eGPU from the same family require a unified driver is required to run them concurrent. This can be a problem if the dGPU is older than the eGPU driver and there is no iGPU available so the dGPU can be completely disabled. The solution here is to disable the dGPU as follows:
1. Install and use Windows 10 or 8. Windows 7 does not allow the eGPU to work if the dGPU is disabled.
2. Set the dGPU to run as a VGA only device using these instructions:
https://support.microsoft.com/en-au/help/325341/how-to-force-windows-to-use-standard-vga-compatible-driver
3. Install your eGPU drivers.
Yeah, I am aware of the unified driver thing, I have 373.06 installed and both cards are recognized and work fine, but if I have the dGPU enabled I get significantly less performance even on external displays and the only way to increase performance again is to disabled the dGPU and reboot.... which is annoying because If I wanted to accelerate the internal display at it's native 120Hz refresh rate I have to have the dGPU enabled (unless someone knows of a way to add refresh rates to Microsoft Basic Display Adapter/Disabled video cards)
for reference:
dGPU enabled external: ~75 fps
dGPU enabled internal: ~18 fps
dGPU disabled external: ~110 fps
dGPU disabled internal: ~25 fps
framerates are from furmark and are just a quick test.
I am swapping my 1080 for a Vega 64, will either make a new post or update this one once the card arrives.
Hi. Could you do a time spy benchmark please? Would be nice
To do: Create my signature with system and expected eGPU configuration information to give context to my posts. I have no builds.
.