2013 15" Lenovo Thinkpad T540P (GT730M) [4th,4C,Q] + RX 590 @ 4Gbps-EC2 (EXP GDC 8.5c) + Win10 [albenex]
System specs: 
-Internal Display: 15" LCD @ 1660p
-CPU: i7-4700QM
-dGPU: Nvidia GT730m
-iGPU: Intel HD 4600
-RAM: 16GB DDR3
-SSD: Samsung 840 256 gb & Samsung 860 1tb
-OS: Windows 10 pro

eGPU hardware:
-enclosure: EXP GDC 8.5c feat. Express Card adapter - bought on ebay at 30€
-video card: XFX AMD RX590 8GB
-PSU: Corsair VS350
-External monitor: LG 43" 4K TV - [email protected]
Hardware pictures (note: require 5+ posts for "attach files" button to appear. Or can link from say  http://imgur.com  )
Installation steps 
(ignoring previous tries to get it working, including DSDT hack, not useful, struggling either on Error12 or Error43)
1- re-install W10 using MBR Partition scheme
2- installing DIY Setup 1.35 by nando
3- put "ATX PWR" toggle ON on EXP GDC 8.5 interface
4- mounted card on EXP GDC, attached PSU cables (needed 2molex to 6+2pin adapter, provided with card, and EXP GDC pwr in to half of PSU CPU cable supply)
5- attached HDMI cable from RX590 to TV
(following: steps needed everytime to get it working)
5- powering OFF laptop
6- powering ON PSU, interface will power on, PSU fan will start spinning, video card leds became blue (however fans may not spin)
7- powering ON PC
8- waiting for windows boot menu, selecting DIY Setup then let it run setup configuration
9- attaching express card cable to PC - DIY Setup should recognize card 
10- disable AMD audio interface (in order to reduce use of BUS bandwidht)
Steps needed to be done only once, after DIY Setup will recognize the eGPU - Disabling dGPU:
1- menu-based,
2- PCI Compaction->ignore->dGPU,
3- PCI Compaction->Run->iGPU+eGPU, 
4- Video cards->dGPU [off],
5- Hit F3 key,
6- Chainloader->test run
Benchmarks (Include a  CUDA-Z  or  AIDA64  bandwidth pic. Optional: Valley, 3dmark, noting if it's on internal/external LCD )
AIDA64 Bench:
3dMark score: 3896 overall
GPU-z shows it's running Gen 2 link with x1 PCI-e speed.
Hi albenex I wanted to ask if you are happy with you performance, I got a RX 570 8gb and it seems to be performing poorly, what do you recommend?
I am waiting "new" screen for my t540p-dgpu and then could start testing my RX 580 4gb + Beast v.8.5c  setup. Have you able to get Gen 2 link working? I think its critical for performance. I already put some ferrite beads and aluminium foil on express card-hdmi signal cable. Might prevent some interferences.
Pending: Add my system information and expected eGPU configuration to my signature to give context to my posts
ok, my resume is: I got it working first in the Int/ext screen with the help of @Nando4 and I updated my W10 from build 1703 to 1903 and things went sower, I only have the access to the Ext screen, the 2 gen link I am not sure if is working, but the performance seems pretty off, since I am at 15-25 FPS in Far Cry Primal with quality low, and I did not make any hack to improve performance yet, since I am trying to correct the in/ext screen problem, I will let you know if any thing changes @pepzki and my T540p does not have a dGPU
I think you should target to external display only due the limited bandwidth. Of course if you take egpu connection away you should be able to use internal display..
You can see gen version in gpu-z bus interface (albenex last picture up). And it can be set from bios to auto or 1 or 2 versions?
I am not sure cos havent started project yet due the slow postages. What i have tested with i3-4130 MudRunner spins butter smooth 4k all topped but my psu fails in that stress.
Pending: Add my system information and expected eGPU configuration to my signature to give context to my posts
oooh so I got, 2.0 with no problem, but performance still bad even in an indie game Dead Cells , but I think that is the problem with the aluminum foil, I will do what ever I can to start working in the performance, I couldnt run a 4K video yestarday; and what is the ferrite beads, what are they for?
What is the power dedicated to the GPU of your power supply, I use the DA-2 Dell 220W and i think is not the problem of power since in theory the RX570 8Gb doesnt need all that power.
I didnt get notification about messages but i dont think you need alu foil and ferrite beads if you get it working in gen 2. But not harm from those. How much/speed ram you have and which cpu? Got working display for t540p but now my rx 580 might be messed up. Black screen after drivers in m83 thinkcentre.. Have to test if i get it working in egpu setup. If same problem i have to wait again to get replacement gpu.. I used it with HP max. 500W atx psu but i dont know how much it gives for 8pin connector. P/N 746177-002.
Pending: Add my system information and expected eGPU configuration to my signature to give context to my posts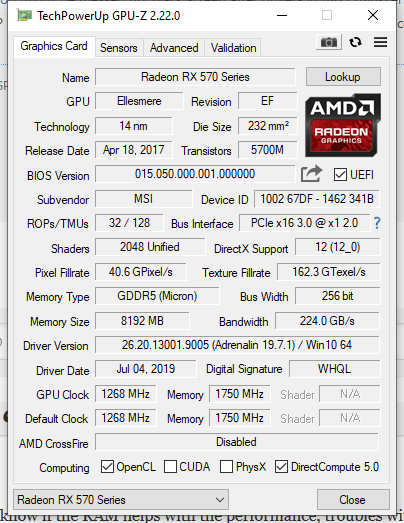 I got the same CPU as your a I7-4700 and 8Gb of RAM, I dont know if the RAM helps with the performance, troubles with the GPU is the worst thing that can happen with this kind of setup, I might be thinking in building a full PC, but with a mini-case and make it mobile using a VR setup cause I never found in the builds of EC2 how improve performance, and the Lap will be for study only, I thought it would perform at least 75% but it  seems that there is no big deference between the HD4600 and the Egpu, and i would recommend  you investigate how much the 8-pin output is.
Yeah! Finally i get it working. Still dont know why gpu didnt work a while even in M83. But get it working after many many boots (had booting fails) and newer driver install.
Same ssd to laptop and got egpu working straight away with diy setup 1.35 boot. Need to now make it working with my primary ssd in laptop still..
I didnt use that HP psu anymore. Cheap aliexpress 8pin adapters run pretty hot, with old Nexus psus so need to fix that but working for now..
What tested for now MudRunner 4k all high about 47-55fps just by looking it now and then. Had to go closer to see the numbers..
I dont know how to help you. I have too 8gb by 1600mhz. I think it uses egpu when hdmi/dp/dvi outputting from rx 580 and igpu otherwise. win+P setup it just external display from rx 580 output.
I try to think and info u if i came mind something what could help u.
If you throw towel to ground and start to gather desktop parts here you might find ideas for best bang for buck setups: Tech YES City from youtube https://www.youtube.com/channel/UC9Tn-atYOt8qZP-oqui7bhw
If i get this working permanently i start looking too some cheap VR setup like Lenovo Explorer (could have get new set 200€ like ~year ago) or just Gear vr setup which i already have feat Note 4 with problems..
Have you tried fresh win 10 install?
This post was modified 7 months ago
Pending: Add my system information and expected eGPU configuration to my signature to give context to my posts
Ha, thinking my hdmi-express card cable might broke. Firstly it disconnected egpu even a smallest touch. Now it wont even start egpu. But got working in my main ssd a while..
Pending: Add my system information and expected eGPU configuration to my signature to give context to my posts
September 16, 2019 8:54 am
Hey Guys,
sorry not replying sooner but i got notification mail just couple days ago.
@maximiano14: my performance are good with RX580, good as expected (75% of equivalent desktop setup - due to limited bandwidth). Bear in mind that you should use only external desktop. While disablind dgpu, egpu takes care of accelerated graphichs but not everything. Some stuff is still rendered by igpu so i strongly reccomend you to close unwanted windows. 
For example: if i leave Telegram Desktop open and then start a game, FPS drops drastically. Telegram itself is laggy. Pretty strange but probably due to igpu weakness.
Regarding RAM, i don't think this matter. Real use is pretty limited.
Bear in mind that aluminium foil does not improve performances. Just limits EM interferences.
sometimes i need to shut down completely my external TV/Monitor as i get black screen over HDMI connector.. due to some static. this is probably caused by the lack of Ground isolation of EXP GDC.
@Pepzki: strange, i disconnect/reconnect cable every time and is still there. Bought cheap exp gdc from ebay seller.
Regarding PSU, you definitely need an external one to power up either EXP GDC and RX570/580. I tried using ext PSU just for card and another adapter for EXP GDC but i had to limit perforamnce to about 30% as i would get card freezed with BSOD. 
i notice that while graphics performances are good as expected, desktop ones are poor. 
after using commmon programs such as chrome, telegram etc. graphics becomes laggy with very slow animations.
always using ext display attached to dgpu.
is this maybe related to the presence of igpu?
February 18, 2020 2:11 am
I gave up the project, so no need to bother...I went in a new Rogue-Project to allow the use of RJ47 port for maximum performance and high compatibility with almost all Laptops, I will show results soon.