September 21, 2020 1:54 pm
@imconfused, Thank you for sharing this build. The inconsistent performance through Thunderbolt 3 eGPU could be related to how the connection is attached on the motherboard. Have you ran HWiNFO64 to check whether it's through the PCH or directly to the CPU? I found a motherboard photo which shows a bare PCH chip without any cooling. If the Thunderbolt 3 connection is not directly attached to the CPU, you may want to apply some type of cooling for the PCH to get more consistent performance. Here's my PCH cooling experiment with a Dell XPS 9570 [build link].
I had a 2017 Alienware 15 R3 with similar specs, i7-7700K + GTX 1070 dGPU [build link]. The internal monitor was a G-Sync panel so making the eGPU work in loopback mode was not straight forward. It's best to disable the Nvidia dGPU so that you only have the Intel iGPU running. That way Nvidia Optimus can provide eGPU acceleration to the internal display.
September 21, 2020 2:01 pm
@itsage, do you know if the thermal issue you reported is also present on the latest XPS machines?
Based on this image seems like they changed it, not sure if it solves the problem though.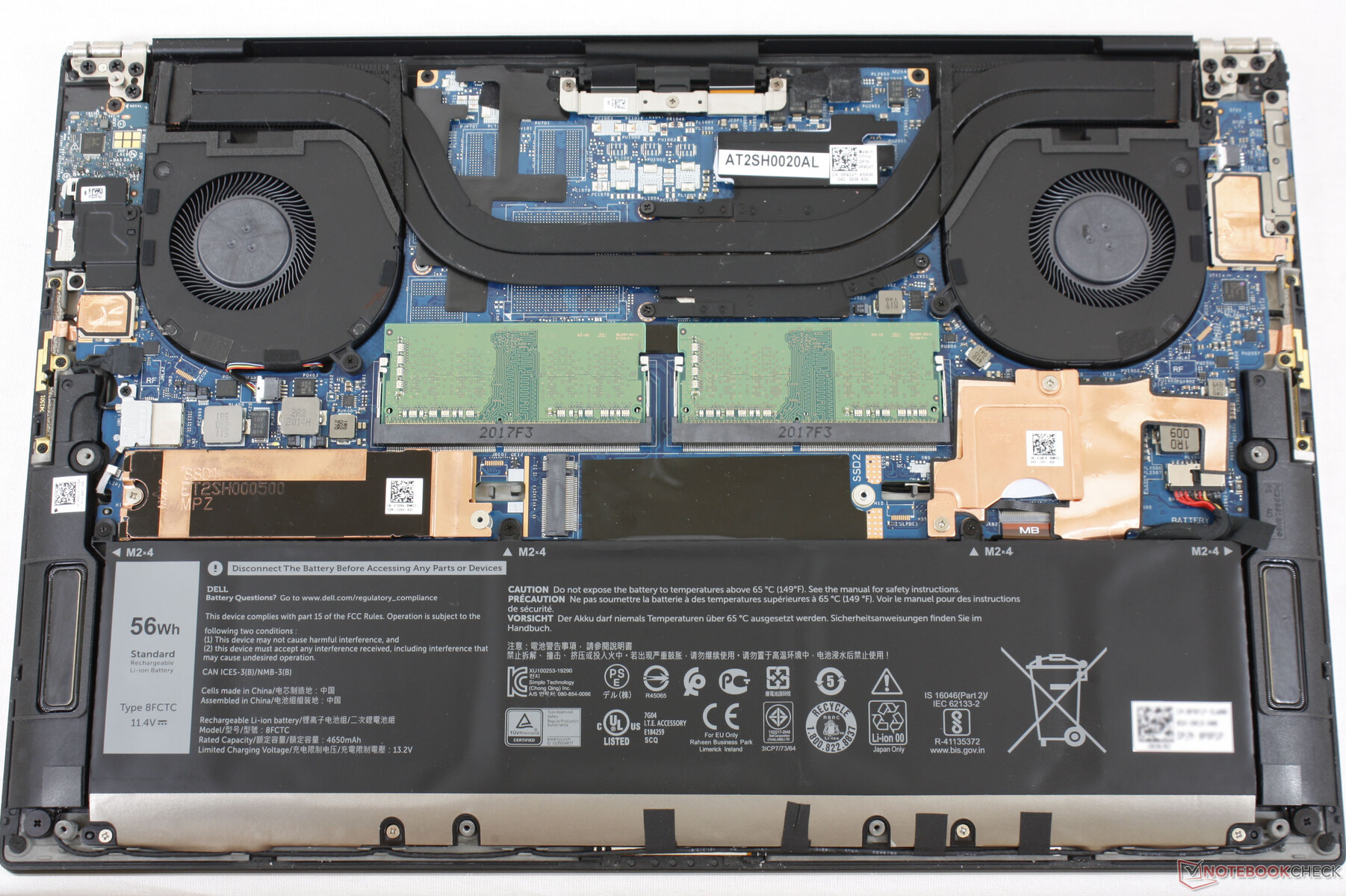 This post was modified 8 months ago
To do: Create my signature with system and expected eGPU configuration information to give context to my posts. I have no builds.
.
September 21, 2020 2:12 pm
@egon_braun, Which exact XPS model is that motherboard? Good to see Dell added a thermal pad and a copper heatsink on the PCH. That particular laptop configuration without a dGPU should be nice for eGPU use.
September 21, 2020 3:25 pm
@itsage, I believe I only have the Nvidia dGPU in this laptop, no iGPU shows up in device manager and it wasn't on the specifications.
I'm not 100% sure, but it appears form this map its going back to a PCH-H (see attatched)
The hottest the PCH appeared to get to during 4K benchmarking is ~60C I'll keep an eye on it tomorrow when I use it.
September 21, 2020 5:57 pm
@itsage, it is supposed to be a Dell XPS 15 9500, but it is from a post in a forum so don't take it as bulletproof evidence.
To do: Create my signature with system and expected eGPU configuration information to give context to my posts. I have no builds.
.
September 21, 2020 6:08 pm
@imconfused, Thank you for posting the HWiNFO64 screen cap. Thunderbolt 3 connection under a PCI Express Root Port rather PCI Express Controller means it's through the PCH. Is there an option in the BIOS to enable Intel iGPU?
September 22, 2020 3:36 am
@itsage, No. These ACER bios' are crap, I can't even disable RAID mode for my M.2 drives to allow me to use the AHCI features. 
I've sold my RTX 3080 to my flatmate for the cost I got it. To be honest the ~$1000 USD cost (eGPU housing and card) for such a small FPS increase is not worth it in my eyes. If I was to go to an external monitor with 4K it really would have worth considering as the FPS jump was 100% almost at those resolutions, but I'm space limited in an apartment while I wait for this COVID-19 crisis to end and a monitor was out fo the question.
My primary goal coming into this project was to boost the VR performance I get with my Valve Index, and in fact I lost performance form the dGPU 1080. I still have the housing, and either I'll ship that home after or look at buying a cheap AMD card to see if I have any better results in 1080, but to be honest I doubt it will help.
I hope the figures and number I got from the benchmarks help someone else in their decision making process with trying the RTX 3080 in a similar setup.
September 22, 2020 8:43 am
Thanks for sharing, it helped me to compare the data with you ...
I think your starting position is not ideal for an eGPU because your laptop was around 3000 euros and still has now a pasable gaming performance that does not justify 1000 for you.
If, however, as in my case, the laptop costs 1000 and the GPU 1100, I have a financial saving and a lot of mobility ...
I have my laptop with me all holidays I think for your gaming laptop you have to weigh first?
Stay with me, I will benchmark my setup completely and update the main page at the first opportunity
Your list is not correct. The information you provide is the complete score and not, as with the others, the graphic score
so please through External Display 67634 and Internal Display 50005
This post was modified 8 months ago
September 22, 2020 6:10 pm
@w7_basel, everything I posted was combined, someone has edited them for me to Graphics only it appears. Thanks for pointing it out. 
September 22, 2020 6:51 pm