This is a weird one... I took apart Akitio Node Pro, and made a DYI-ish Thunderbolt 3 setup.  I thought the case was unnecessarily big and I wanted to travel with my GPU.  This remains from the gigantic original case: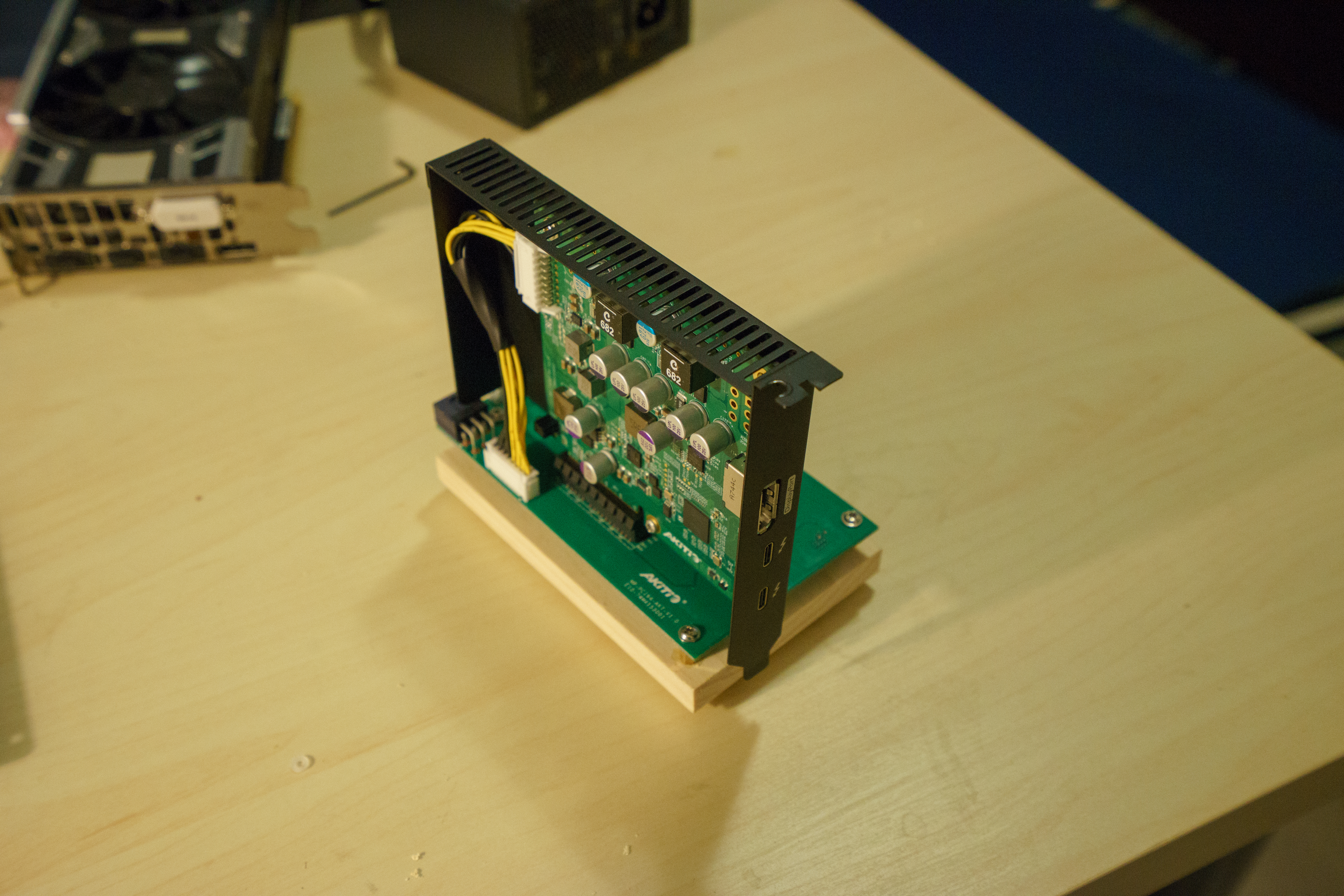 (Note: some say the case is supposed to protect from EMF--I found no evidence, but do you know if that's true?)
I originally just put this on my blog, but I wanted to post an abridged version here since egpu.io was useful and inspirational when I embarked upon this project.  Hope this post will inspire someone too!
System specs
Model: HP Spectre 13t, 2018 release.  Model: AE013DX
Display: 4k screen, 3840x2160, touch
Internal GPU: Intel UHD 620 
CPU: i7-8550U
OS: Windows 10
eGPU hardware
Enclosure: Akitio Node Pro
GPU: eVGA GeForce GTX 1070 Ti
Cable: Akitio's 6ft cable
Power Supply: the setup briefly worked with Akitio Node's internal PSU which overheated, and Corsair RM550x
If using an external ATX power supply:

VGA power cable extender (3 pin is enough but you definitely need an extender)
1-inch piece of wire
I initially built it using the power supply I extracted from the
Akitio Node Pro
itself but
that power supply unit overheated and died
.  Initially, it worked, as you can see from the pictures.  However, after I carried it in the checked in luggage, its fan no longer turned on.  The power supply overheated and stopped working.  I didn't try to fix it, adn I can't really tell if it was damaged during travel or if the uni was just not up to challenge.  I just bought a Corsair RM550x instead.
Hardware pictures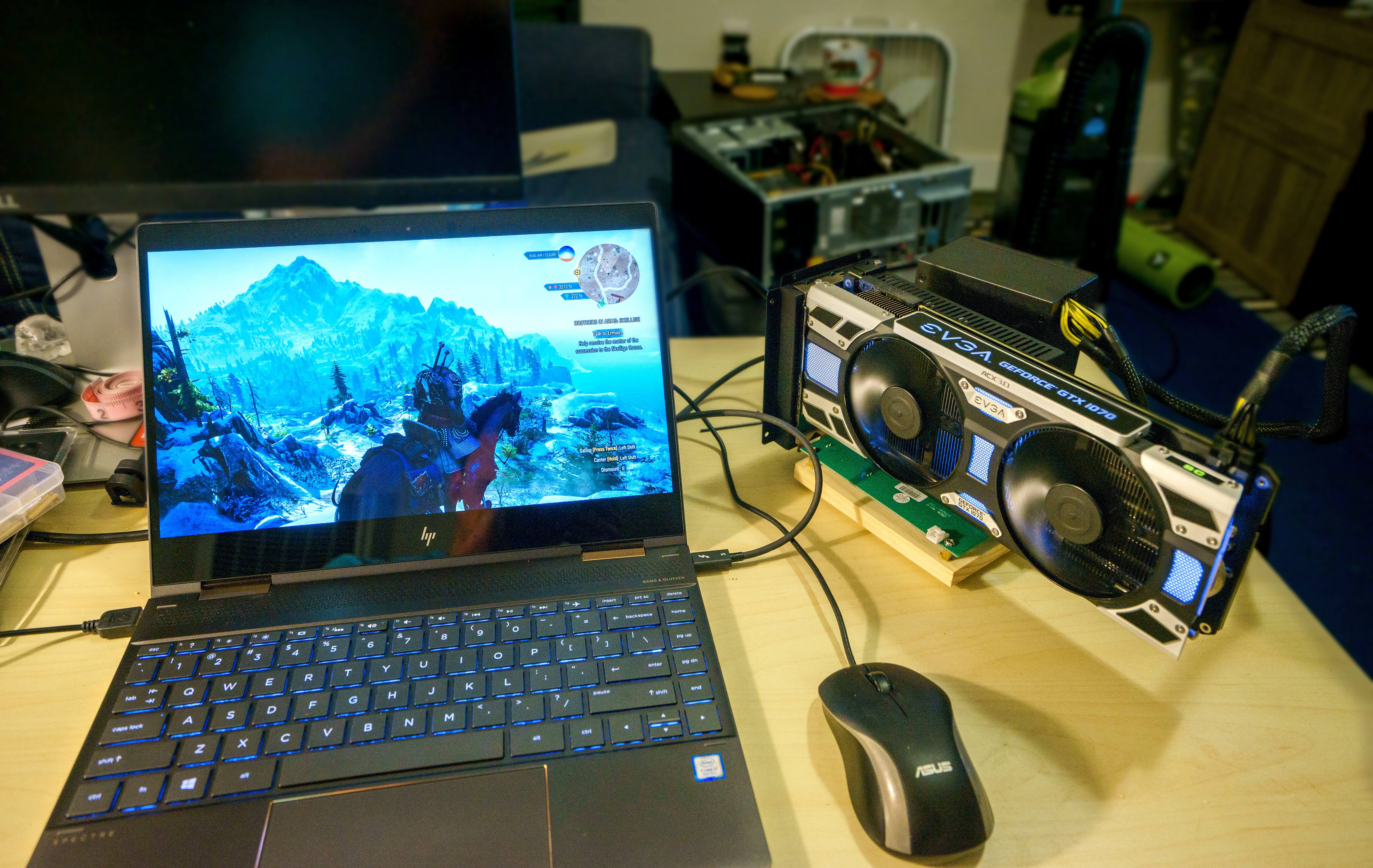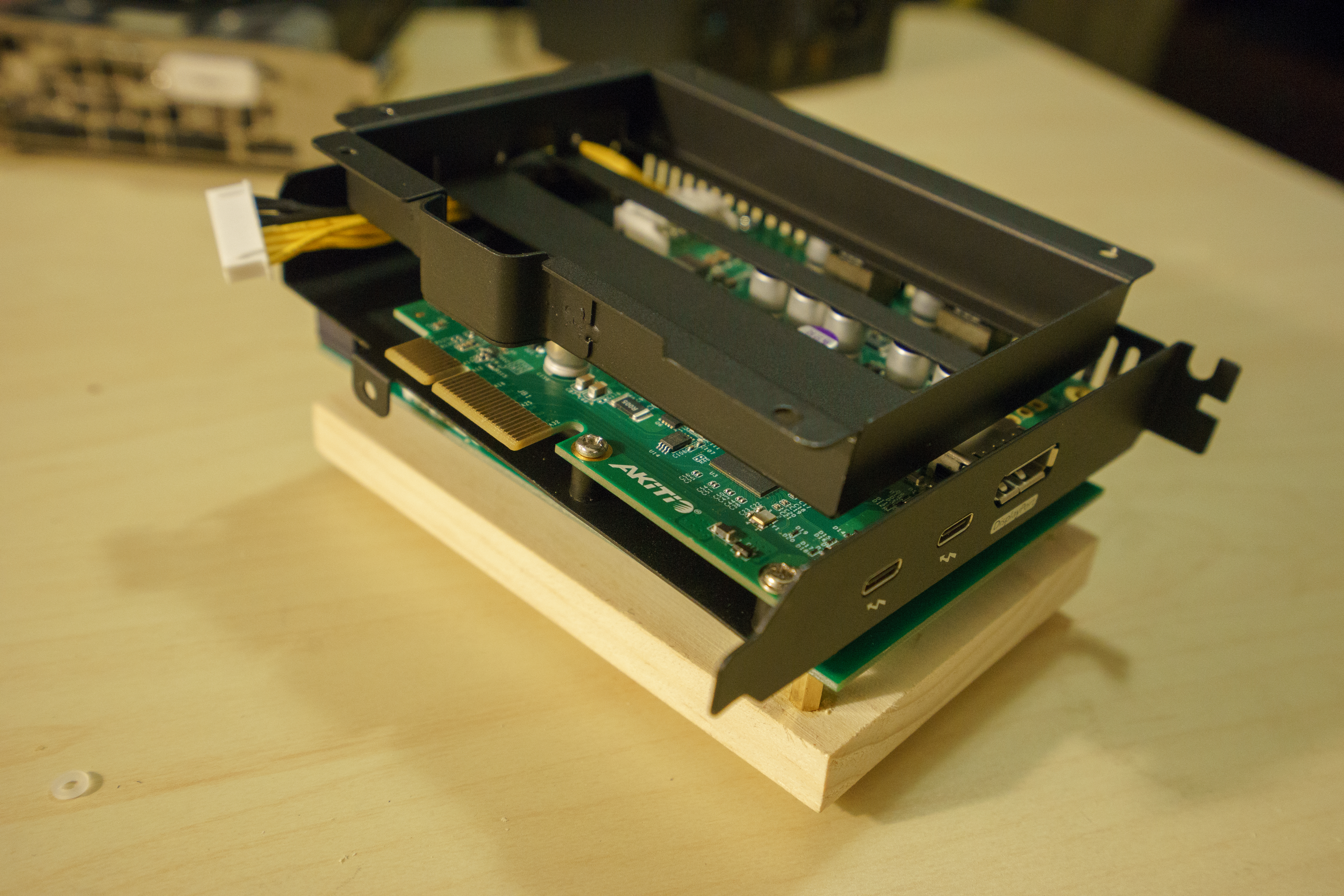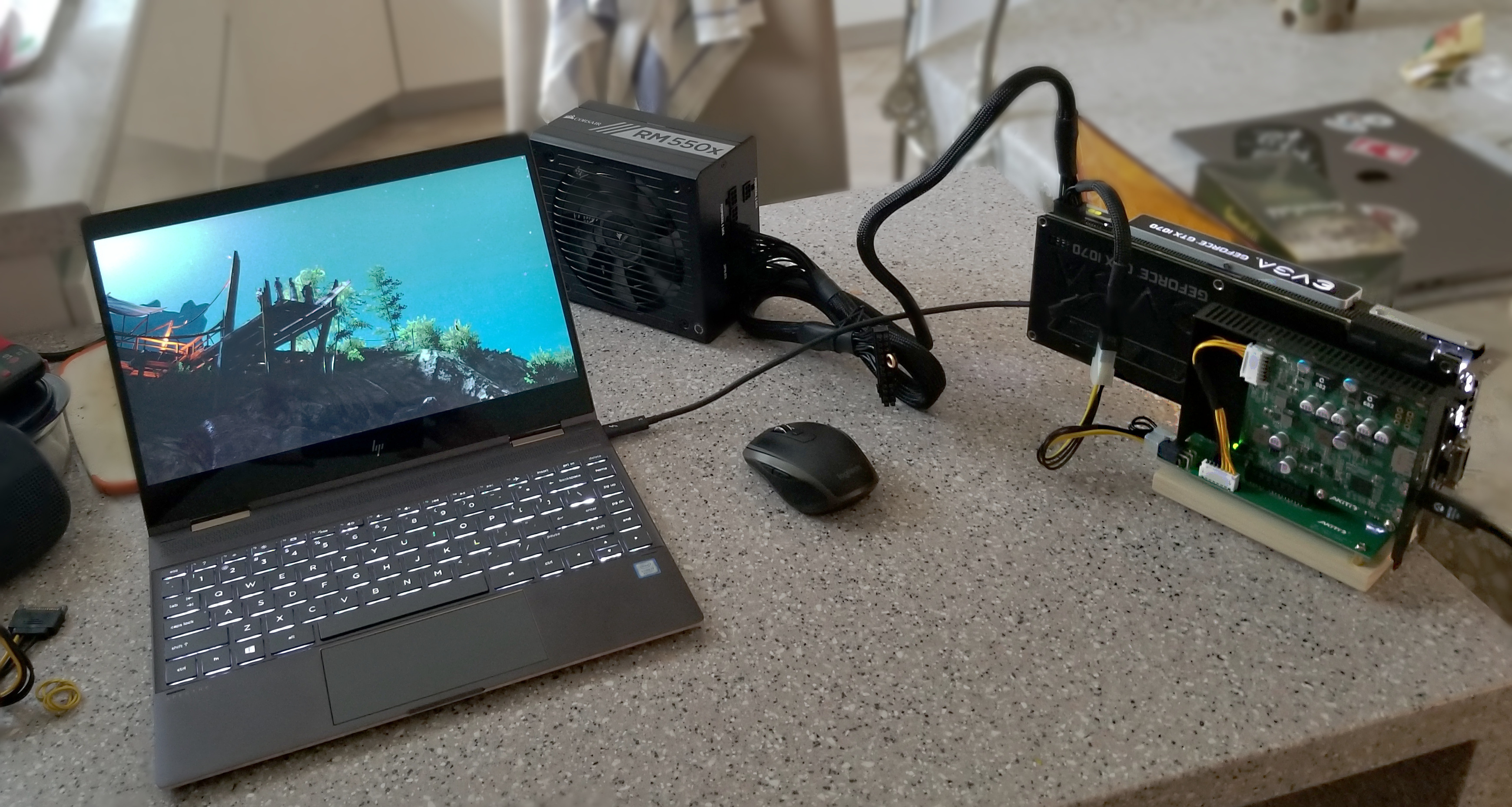 In addition to the GPU hardware, you need something to mount the GPU on since you no longer have the case.  I used a piece of wood and standoffs to mount one of the boards.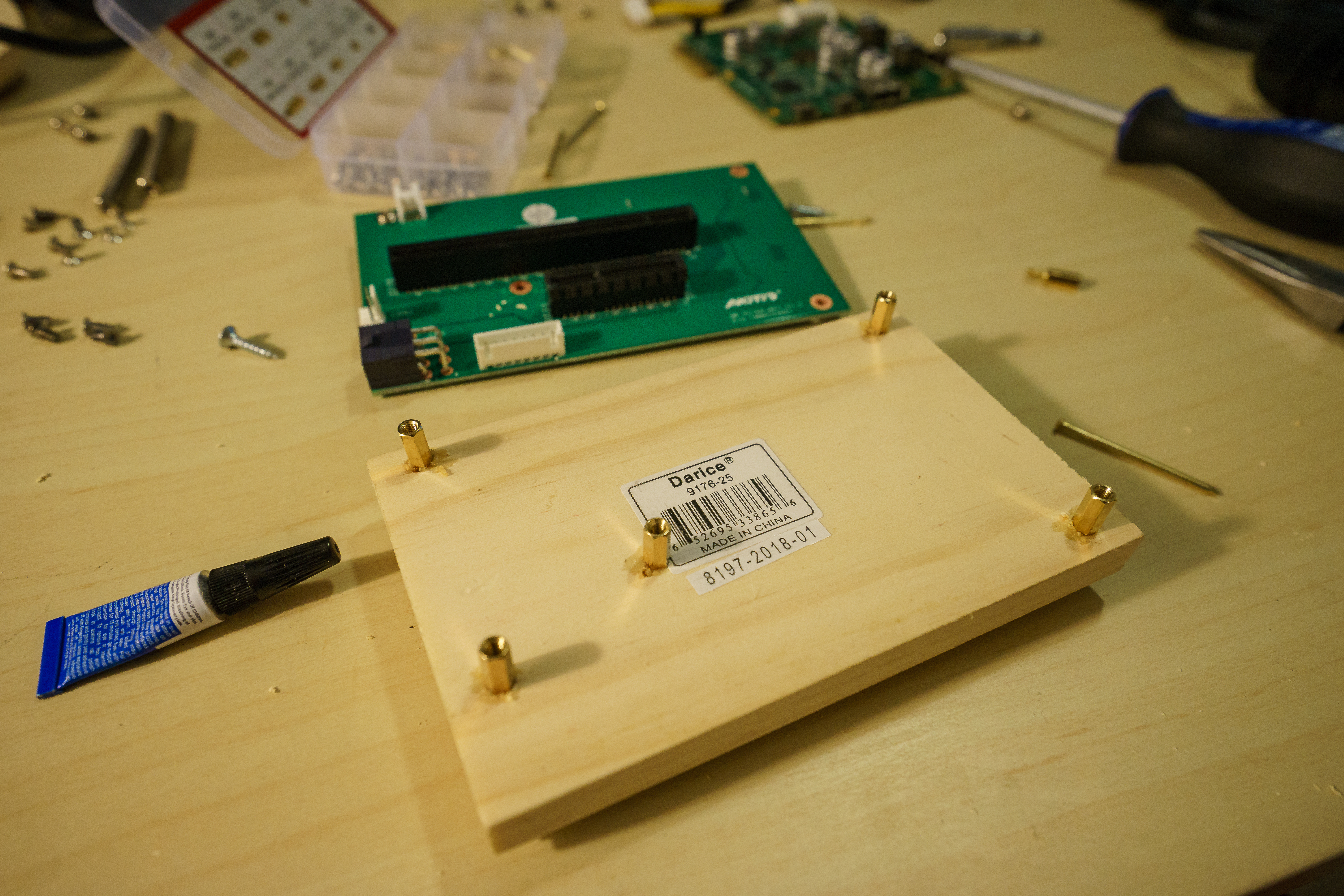 Installation steps

The longer version with a lot of details and pictures is on the blog.  Here's a short version.
Take apart the Akitio Node Pro (requires a T8 and T10 screwdrivers as well as the Phillips screw)
Extract the Thunderbolt 3 board, the board with the PCI slots, and the power supply.
Use the PCI board to outline where to mount the standoffs on the piece of wood.  Measure twice cut once, and practice mounting on some other board.
Place holes for standoffs using the drill.  I put the drill right through the board's mount holes but you might not be as adventurous
Glue the standoffs in (I used super glue but that is lame.  If you have other ideas, let me know in the comments)
Mount the boards back together.
Plug the cable into one of the PCI slots and enjoy.
With the ATX power supply you need an extra step: short-circuit the connector so that the on/off switch actually powers the device on, as shown
here
.
Benchmarks 
All benchmarks are done on the internal laptop's display.  I loved that 4k display so much that I didn't want to use external non-4k displays.  The performance was good enough so I didn't try to improve it with external display. 
Comments
This worked great (except for the part where the Akitio's Power Supply stopped working).  I mean, I didn't really tinker with any of the new components, but I'm happy to report everything's working as expected.
Plug-and-play works, no reboot needed.  Laptop charges while playing.  Linux (Ubuntu 18) and Windows alike recognize the GPU.  Games released in 2016 (tested with DOOM) and 2015 (Witcher 3) work.  No BIOS tweaks needed.  Nvidia drivers downloaded from the nVidia website work.
Internal display works fine too.  In fact, I'm a huge fan of the 4k display now; I've never experienced one, and I think it improves gaming experience.  There was no need to install an external display to improve performance.
So much stuff works as expected that I really feel a bit underwhelmed
Anyway, I hope this will be useful to some.  Please feel free to check out the full posh, or ask questions here.  Any feedback appreciated.
P.S:  So does anyone know why all TB3 enclosures for full-size GPUs include gigantic cases???
@shvedsky ,  I'm with you. There exists a hole in the TB3 market place for a lightweight, no-frills open pcie adapter like a EXP GDC seen for mPCIe/EC interfaces. The reduction in weight from a lack of enclosure should ideally translate in a lower cost.
The present Intel certification landscape requires eGFX enclosures to be a enclosed solution. So it seems then the workaround solution is to remove the TB3-PCIe board as you have done.
The present Intel certification landscape requires eGFX enclosures to be a enclosed solution.
Oh, that is interesting, thanks.  I wonder, why does the spec require that?  There must be a reason for this.  Could it be the EMF emissions, or maybe something else.  Perhaps we could ask Intel...
(I got a private message but I can't reply yet because of spam filter, so I'll post a reply here)  I was asked if I'm happy with the setup after I used it some.  I can say that yes I am.  The new power supply works perfectly.  Although I didn't have 10-hour gaming sessions so far (one is planned for this weekend :D), short ventures into the world of Witcher 3 are as good as it gets.
There are two minor annoyances:
1) Playing a fast paced first-person shooter game such as Doom on a display as small as 13 inch caused me a tiny bit of headache.  There's too much visual information packed into a screen this small.  Perhaps someone yonger, with a better eyesight would be happier.


2) The 6 feet cable is very long (duh).  Because of its length, it's easy to slightly touch it and disconnect it from the enclosure.  It seems that the cable can move inside the port a bit and disconnect if you're not careful, which will cause the 3d game to crash.
@shvedsky Hey thanks so much for the benchmark! I've been looking at a 4k laptop set up with eGPU too lately. I have been getting very polarizing opinions on wether internal 4k (or 4k in general) works for eGPU. I am planning on getting the aorus gaming box with 1080 in it, and I have seen people saying it won't get above 20 fps even on web browser to 4k actually is better suited for eGPU. Just want to ask how's your experience gaming on an internal 4k display with eGPU? Is there a lot of stutter? Is the fps maintanied at a playable rate?
This post was modified 3 years ago
To do: Create my signature with system and expected eGPU configuration information to give context to my posts. I have no builds.
.
@steven_zhao - 4K on an external monitor works and works well. 5K also works. I run both. It is "better suited" because a higher res means a lower frame rate, which means that the performance is closer to the desktop, due to the fact that a lower frame rate lowers the bottlenecks from the two things that impact eGPU frame rate: TB3 latency/bandwidth constraints and the weaker mobile CPUs. I play World of Warships, and I have no issues running at 80fps at 4K.
On the internal you will have issues achieving any good frame rate due to feeding back the gigantic 4K image data back to the system, but a browser should work fine. That said, if you're running a browser, why do you need an eGPU?
Don't try 4K gaming on an internal monitor - It is very much not recommended. Scaling down to 1080p would be okay-ish, but worse than an external screen. In general, 4K displays on laptops are not terribly useful, unless the system is a large 17" one, and even then. 13/14" 4K panels are more power hungry than 1080p ones, leading to worse battery life, and they are definitely too small for that many pixels to be of a benefit. 4K at 24/25/27" looks great, and even then a lot of people will need to scale things beyond the default 100% so they would not be too small.
This post was modified 3 years ago
October 13, 2018 11:01 am
I am also an HP user. I will use your post as a template to build my release.
hey, i've read that you gain some issue with the Akitio PSU.  What is the replacement of the PSU? could you find it on the market place?
To do: Create my signature with system and expected eGPU configuration information to give context to my posts. I have no builds.
.
@fellar031, yes, I was able to find a solid PSU replacement.  A more modular Corsair SF600 is as powerful and as lightweight as the Akitio's original PSU.  It's also probably better quality; e.g. it doesn't seem to heat up at all, and thus might be less prone to failure. See the updated build post with photos here: http://coldattic.info/post/108/#oops .
Sorry for a delayed reply; I've just returned from a trip and thought I'd take some pictures of my new setup and upload them