System specs
Apple Intel Mac Mini 2018 (2020 SSD Upgrade models)
Intel Core i5 8500B [8th,6C,B] Intel HD Graphics 630
16GB DDR 2667Mhz (2 x 8GB OWC SODIMM)
Samsung 27" 27T55 1080p 1000R Curved Freesync 75Hz
Logitech G Pro (Hero) Wired Mouse
Logitech G213 Wired Keyboard
eGPU hardware
Included TB3 Cable
Gigabyte Windforce RX 5600XT (1750Mhz-ish)
Installation steps (note: I didn't keep track of all restarts, oops)
Download Windows 10 Enterprise Evaluation
Install using OS X Bootcamp Utility
Let Windows 10 update everything
Open Apple Software Update, update everything
Restart, turn on Razer Core X
Give it a while, it will show up in Device Manager as Microsoft Display etc. 
Windows will start installing default driver
Allow installation to complete, mouse, keyboard and WiFi may disconnect for a while then reconnect
Install AMD Adrenalin latest (21.1.1)
Shutdown, turn on, I found I had to reconnect the TB3 cable, then eGPU was detected
"AMD XConnect" notification comes up
After this, swap HDMI from Mac Mini output to Razer Core X output (HDMI on 5600XT)
Shutdown
Turn on, everything comes up fine.
Benchmarks (External Only)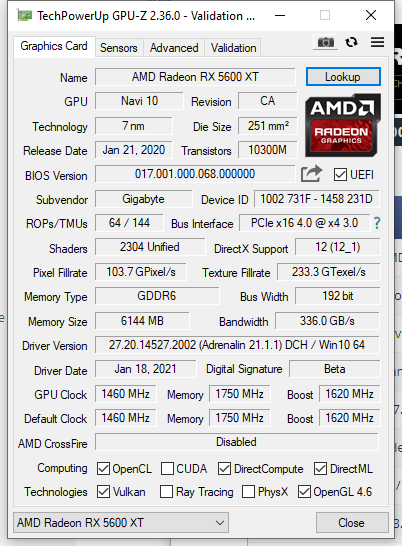 Apex Legends: Pretty smooth, by setting 4GB VRAM only. All High except AO, Shadows, turned off Volumetric and Sun Spot. At 6GB VRAM setting I think the bandwidth chokes and things get choppy. 55-100+ FPS overall especially once WiFi is not used and only Wired Ethernet. 
Comments
USING WIRED ETHERNET IMPROVES PERFORMANCE GREATLY VS WIFI!
I basically got a Mac Mini and like it because it's the last Intel Mac Mini ever. In OS X everything works out-of-the-box for pro applications including 4K 10-bit HDR etc according to Apple specs (Apple TV rented content may only show HDR at 1080p etc). 
Tried Apple Arcade but still missed AAA PC Gaming. So went Bootcamp. I removed the bottom cover of the Mac Mini and use MacsFanControl to set the fan RPM to about 70%+ to reduce CPU throttling. AMD FreeSync is detected over the Samsung HDMI cable. 
Currently using AMD Adrenaline Automatic Undervolt to reduce temperatures, seems OK at about 930mv.
Previous brief overclock testing yielded about 1800Mhz core and 1850Mhz mem, not sure if stable though.
This topic was modified 2 years ago