System specs
2020 13" Dell XPS 13 9310 (FHD version)
i7-1165G7 @ 2.8 GHz
16GB RAM
Iris Xe iGPU
Windows 10
eGPU hardware
MSI GTX 1080 Gaming X 8G
No disk installed
Hardware pictures
How the eGPU enclosure arrived, I noticed it was well packaged and I couldn't find any damaged part.
The unwrapped enclosure
Installed the graphics card, fits like a glove.
The completed setup, still not sure wether to use laptop open instead of docking.
Pro's:
Use windows Hello to use face login
Easy access to power button on laptop
Extra monitor
Cons:
Smaller keyboard without numpad
Installation steps (what did you do to get it all going?)
Plugged in the eGPU while logged in to windows, and gave it some time to detect. 

Reboot

Had to enter my BitLocker recovery key on boot, because of a boot policy change.

Installed Nvidia display driver 461.40

Reboot

Windows desktop is feeling much smoother now.

Tried a GPU heavy game on external monitor, there was some noticeable stutter, even though the FPS counter was 100+ and no drops

Enabled two bios options, Thunderbolt Boot Support & Thunderbolt pre-boot modules
Did some benchmarks to try and measure performance loss over thunderbolt vs dekstop, see below
Benchmarks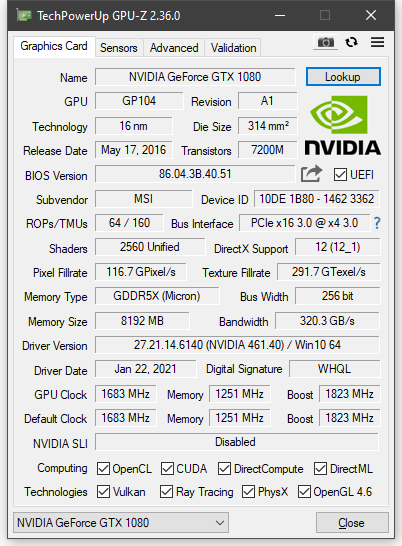 I was curious about the exact performance loss of an eGPU setup compared to a desktop, so I did some benchmarks on both
Desktop specifications:
i5-6500 @ 3.2GHz
16GB RAM
MSI GTX 1080 GAMING X 8G
Monitors are 1440p @ 144Hz
What is interesting is that in FurMark, the performance of the GPU is better when using the internal laptop monitor. Maybe someone can explain this? The external monitors were disconnected.
Aside from that, the relative performance loss for Desktop vs eGPU + External monitor is:
Time Spy: -11.5%
Heaven: -20%
FurMark: -9.5%
Comments
So far, the synthetic benchmark results do not disappoint. Sometimes I notice some stuttering in games, even though the framerate is 100+. A reboot usually solves this.
The next steps are:
See if I can do some more tweaks to improve user experience and performance
Replace the chassis fan of the eGPU enclosure because it is always on and kinda loud.
Fix BitLocker security issue as described here
Answer any questions or provide more detailed pictures of the setup if requested.
@b1bskin, Does this setup allow for hotplugging?
Does the laptop need to be tuned on or off when you first connect the Mantiz after a shutdown or a restart?, or can it do both?
Can you disconnect and then reconnect the Mantiz while the laptop is running and do the monitors and other peripherals turn off and then on again respectively?
To do: Create my signature with system and expected eGPU configuration information to give context to my posts. I have no builds.
.
@avi_friedman, welcome to the forum. Are you considering a setup like mine?
To answer your question, this is my experience with pluggin in/out the laptop from the eGPU:
Pluggin in always works, wether the laptop is on or off. When it's on, it only needs a few seconds to realise what's happening and extend the desktop etc.
Disconnecting also always works, except:
Sometimes when I disconnect the laptop, without telling Nvidia driver to disconnect the GPU first, the desktop is in a locked state:
My wallpaper is gone, I can still move the cursor, but no other kind of input. Even Ctrl + Alt + Delete does not work. In that case, I have to reset the laptop by holding the power button. after a reboot everything is good again.
@b1bskin, I have a 9310 in a similar configuration that I just setup with a RTX3060 + Sonnet Breakaway Box 750exand have been having the same experiences plugging in/out the eGPU.  Did you ever come across a solution to the system locking up sometimes when unplugging with a hot connection?
@pressy, Unfortunately not. I'm currently just living with it by rebooting, since I dont unplug it frequently.
Hey,
I have the Dell XPS 13 9310 2-in-1 and I have connected it to the razer core with an RTX 2080ti. I am really struggling to get more than 50-60 fps on warzone. I have tried everything and something is obviously bottlenecking somewhere. Just wondered if you had any tips for me seeing as you are getting over 100+ fps in games?