This is my first attempt at creating an ultra small form factor gaming PC, currently it is a mess as I am still trying to diagnose issues with the build (there seem to be some severe performance issues).  
System specs: 
HP EliteDesk 800 G2 Mini -- Intel HD Graphics 530 iGPU / 32GB DDR4 RAM / 500GB WD BLUE SATA SSD
eGPU Hardware:
ADT-Link R43SL + RX 580 + KDM Power 500 WATT PSU (Jumper on the 24 Pin connector) + 24" 1080p Samsung Curved Monitor
Hardware Pictures:  
Apologize for the sloppiness / poor lighting.  I plan on cleaning this build up after I solve the issues with performance.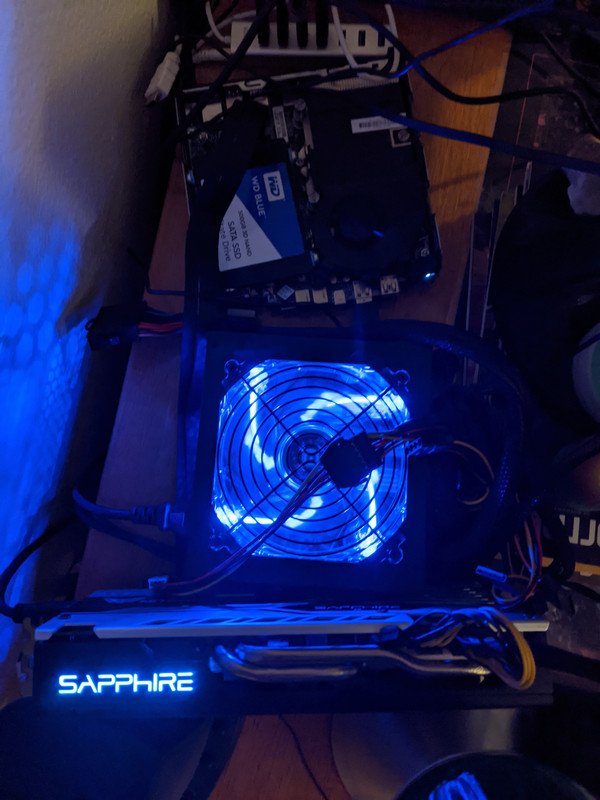 Installation Steps:
Plugged in the ADT-Link R43SL to the m.2 slot, connected the power cable to the ADT-Link and the power cables to the GPU.  Jumped the 24 pin mobo connector on the PSU. Turned on the PSU, Saphire RX 580 light comes on.  Started the PC and the eGPU setup was immediately detected --> Installed drivers and was done.
Benchmarks: 
I will update this with more later today once I can test, also sorry for the terrible image quality.  I was in a rush this morning and didn't even have time to screencap and email it to myself -- 
Unigine Heaven 4.0 (High Setting)

-- Is it just me, or does this seem low?  There was a lot of stutter during the benchmark as well, frame-rate seemed extremely variable.

Unigine Heaven 4.0 High (Fullscreen 1080p to be compared with https://egpu.io/forums/builds/2019-thinkpad-x1-carbon-gen-7-10th6cu-rx-580-32gbps-tb3-aorus-gaming-box-windows-10-1909/ ):

HWINFO64 eGPU Report: (Reporting the PCIe 3.0 x4 connection properly!!)


AIDA64 GPGPU Benchmark:


GPU-Z Report:
  
Comments:
The test results for the Unigine Heaven benchmark seemed quite low to me.  I'm not sure if it's normal or not, as this is my first run on the Unigine benchmark, but there seemed to be quite a bit of stutter and as you can see the frame-rate dropped to 14.9 FPS at times.  
Things that I will try once I get home:
BIOS update if needed *There was a bios update available, downloaded and installed*
Check to ensure that the benchmark / games aren't defaulting to the iGPU (disable the iGPU device) 
Run HWINFO report to determine PCIe lanes are X4 (not X1) and they are running at Gen 3, if not I will try the Nando software solution  *was detecting the proper X4 3.0 connection*
AIDA64 Bandwidth test *See above*
Update -- 7:00PM (BIOS updated, AIDA64 GPGPU Test, and HWINFO64 Report):
I have updated the benchmarks section with the new tests / reports.  The HWINFO64 and AIDA64 tests both look fine, right?  BUT I do see the Intel HD Graphics 530 coming up as the first GPU in both AIDA64 and HWINFO64... time to disable it --> Didn't change anything. 
Now, I have tested Unigine Heaven 4.0 identically to pbrunts build / test  since his system was somewhat similar to mine, albeit a better processor (I don't believe Heaven 4.0 is very CPU intensive?).  My result yields only 67% the performance that his result did, so something seems wrong in this build.  Any help, tips, or advice is appreciated.  At this point I am clueless.
Update 2 -- 9:00PM Added a GPU-Z Report screencap:
Well, I think this report diagnoses the issue... GPU-Z reports the bus interface as PCIe 3.0 x16 @ x4 1.1.  I'm going to try to follow Nando's instructions on dealing with this.
Update 3 -- 9:10PM Wait a minute.. what is going on here?? 
GPU-Z first reported the bandwidth as @ x4 1.1, but now shows at x4 3.0, and I did not press anything.  I was just staring at the report and it suddenly switched (only Chrome open in the background):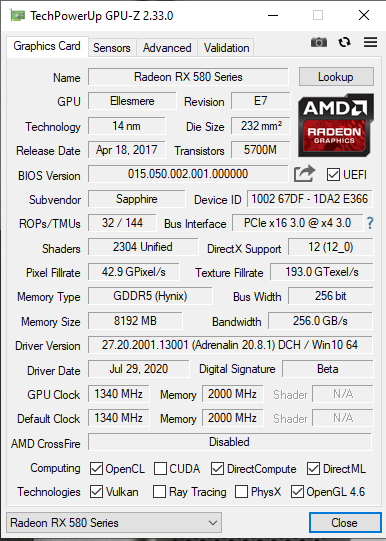 What would be causing this to switch back and forth between x4 1.1 and x4 3.0 like that? Is this normal and expected behavior?   
And I've done another test in Unigine Heaven 4.0... I restarted the computer and set the RX 580 to the default GPU in BIOS (Idk if this actually had any effect), after the computer restarted I got this Unigine Heaven 4.0 benchmark score: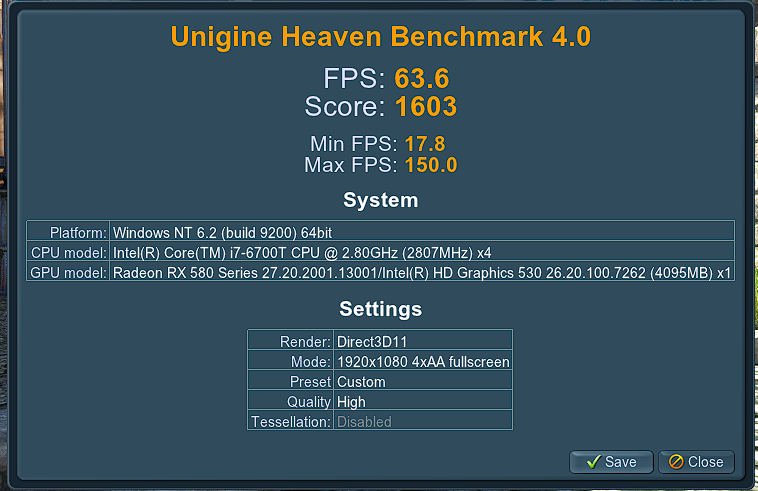 For some reason the average FPS increased by 10FPS... no small change.. very strange indeed.  Something seems to definitely be going on here.
@dashton_peccia, Nice build! AIDA64 confirmed your setup is running at x4 PCIe 3.0. GPU-Z would typically show the resting mode of the connection. I would say to go into Windows advanced power settings and make changes PCI Express power state.
@itsage, Sure thing, I will try that once I get home tonight.  There was a PCI Express power saving setting in the BIOS that I disabled as well, are the Windows PCI Express power settings separate from that? 
November 9, 2020 10:31 am
Hi Dashton,
nice experiment. I have the same mini pc, with an i5 instead a i7 and I'm thinking to do the same. I saw a nice build also, with an HP 600 G2 mini, but instead using the M.2 NVME port, it used the M.2 wifi port. The main technical difference is the use of 1 lane of pcie (8Gbps) vs your build using 4 pcie lanes (32Gbps).
I want to use the external GPU in order to improve the streaming capabilites of the CPU, using a gtx 1050 or maybe a gtx 1050 ti with the NENVC codec. Occasionaly I will play, but not it's the main purpose. I use linux (xubuntu). When I want to make streaming, I achive 720p48 with an approx 40-45% of CPU use with OBS. My purpose is to free the CPU of the task of encoding, wich would be done by the GPU.
I would like to ask you how you finished the build, talking about the "physical" part. How you close the pc case? (because the cable of the ADT-Link 4 lanes version M2.NVME is wider tha the cable of the 1 lane version M2.WIFI.) You made a hole in the pc case?
Did you have problems with this support for the screw of the HDD/SSD case in order to deploy the ADT-Link cable? (Because it's just in front of the NVME slot, and also if you are using the NVME port, you need to use the SATA conector with a HD/SSD).
This post was modified 1 year ago
To do: Create my signature with system and expected eGPU configuration information to give context to my posts. I have no builds.
.
November 16, 2020 9:09 pm
@dashton_peccia, good to see another sff desktop build here! ( more than an attempt if you ask me 😛 )
PCIe x4 1.1/3.0 in GPU-Z is the same behavior with my Deskmini A300 + ADT-Link R43SL, you can press the question mark button (PCI Express Render Test) to put some load on the card and avoid resting mode and get it reported properly at any time. cheers
This post was modified 1 year ago
System: ASRock Deskmini A300 | Ryzen 5 Pro 4650G | 2x8 GB G.Skill Ripjaws CL16 @ 3200 MHz | Adata SX8200 Pro 256GB SSD + Kingston 2x240GB SATA SSD in RAID0
eGPU: ADT-Link R43SG 50 cm M.2 to PCIe 3.0 x4 adapter | Dell DA-2 D220P-01 PSU | SAPPHIRE Radeon PULSE RX 5500 XT 4GB | LG 29UM69G 21:9 IPS Gaming Monitor

2019 ASRock Deskmini A300 [R4K,6C,G] + RX 5500 XT @ 32Gbps-M.2 (ADT-Link R43SG) + Win10 // first SFF Desktop Ryzen 4000 Pro x4 3.0 M.2 eGPU build [build link]
December 18, 2020 9:47 am
@Dashton
So did the power settings end up saving your FPS? And did the NVMe port on the mobo reliably work for gaming through the adapter/GPU?
To do: Create my signature with system and expected eGPU configuration information to give context to my posts. I have no builds.
.