Hello fellas!
I just change my GTX 1050Ti 4$GB for a RX460 4GB, basically because with the Nvidia card my Mac freeze ending in a Kernel Panic sometimes when photoshop was closed.
So, I Installed the new card Gigabyte Radeon RX460 Windforce OC 4GB 75w (amazon $200 USD) automate-eGPU.sh script from goalque.
Ingredients:
- MacBook Pro mid 2012 (9,1) 15" 16GB Ram, GT 650M
- Akitio Thunder2
- PSU 120w
- Gigabyte Radeon RX460 Windforce OC 4GB 75w
- automate-eGPU.sh by goalque
Steps:
1.- Reinstall the OS (this step is optional)
2- Install the Video Card
3- Plug the Akitio to the Mac
4- Run the script
5.- Shutdown and disconnect the egpu
6.- Boot, hot plug the egpu and re run the script
7.- Restart
Until now all went fine and smooth, but I notice this:
The RX460 is recognized as AMD R9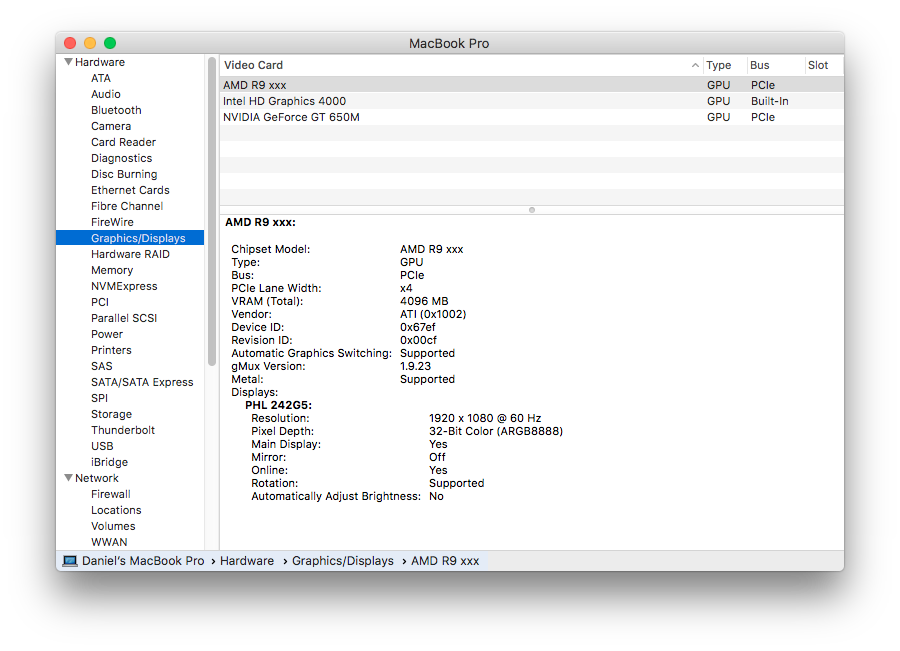 The displays works fine, even at 144hz

But the most weird thing are the fans of the RX460, they run and stop, run and stop... and I don't know why.

At the end all is OK, the card works fine and cooler.
Heaven Benchmark
RX460 4GB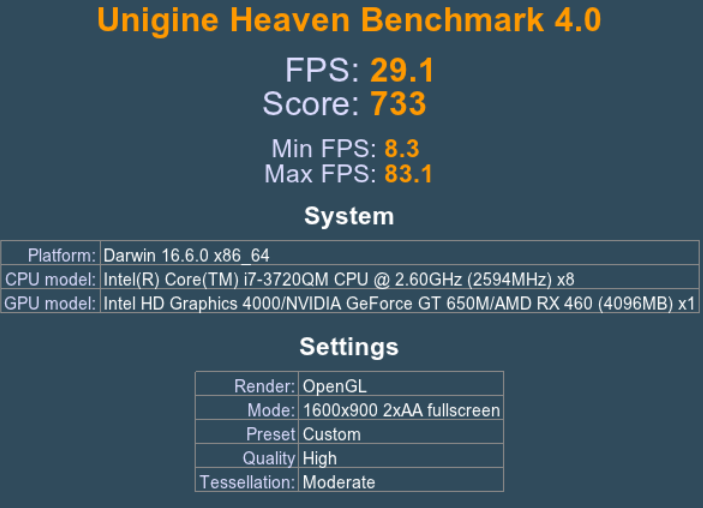 Nvidia GTX 1050Ti 4GB

Until now... no luck in windows 🙁
I think there is nothing weird about the fan behavior. Modern cards are often programmed to turn the fan off if the temperature is under a certain threshold. Even my R9 Fury does the same thing sometimes: Fans are off, card heats up a bit, fans go on, they cool down the card, and switch off, then the process repeats. If they power up under load and the card runs cool, then everything is working as advertised. If it bothers you, you might have success by using a fan control software to set the fan to a different curve, but I have no idea how to do this in OS X (it is trivial on Windows via the AMD utility).
Well, after hours of investigation seems Windows will not detect the Radeon RX460, so I´m switch back to Nvidia :/
Do you see it in Device Manager at all? What steps have you tried to detect eGPU in Windows?
Do you see it in Device Manager at all? What steps have you tried to detect eGPU in Windows?
Nope, the akitio thunder2 not appear in device manager, I installed the thunderbolt driver from intel, also reinstalled the Nando´s DIY egpu but not work with the RX460, before I used to use a GTX 1050TI and works like a charm.
Really I don't know why Windows has been a pain in the ass with AMD, in macOS Sierra I have no problem it just windows.
Thank guys!
@nando4, I dont have problems with Nvidia cards, they works in both macOS and Windows, is the AMD Radeon RX460 the "problem" only on windows.
Tonight I´ll try an UEFI installation of windows. hope works this time.
Edit: check it out, I just switch the RX460 for a GTX1050 without modify nothing amd windows detected with no problem. 
g
May could be the number of fans that have RX460 (2) vs the single fan of the 1050?
Don't worry about the fan. My Radeon RX580 works in the same way.
Well, after a couple of days trying Windows detect the RX460 finally I failed making it work. So, I switch back to Nvidia GTX1050 to play games on Windows and works flawless. I think that I need a more powerful PSU over 120w to make it work.