[global] Aliexpress: US$200 Razer Core V2 board -> add ATX PSU, TB3 cable for 65W PD TB3 eGPU with extra PCIe slot
May 15-2020 >> Price has been increased $US70 -> $US100 -> $US150 -> $US200
@wedel shows how to poweron the board by jumpering two pins here . The LED board isn't needed.
---
link is >>> here <<<
Mistakenly being advertised as a Razer Core X Chroma board when it's a Razer Core V2 one.
Just add a ATX PSU, TB3 cable and you've got a great DIY TB3 eGPU with 65W power delivery. at lowest possible US$70 cost. They also have the USB daughterboard for US$46.53, though for best eGPU performance stick with using other USB ports on your system.
See also:  External PSU for the Razer Core V2
---
FOR Razer Core V2 Thunderbolt 3 eGPU Docking station USB Network card power BOARD RTX2080Ti RTX2070

 

All products tested and work perfectly

 

 Product Image  

 

 

Motherboard test function procedures:

 

1. Check the appearance, such as turps, dust, tin soldering or other dirty mark on board.

 

2. Check whether lack of electronic insulation gummed paper.

 

3. Check whether lacks of fittings, rust, rot, heat elimination chassis.

 

4. Check internal and external connector of LCD display , Two memory, DVD driver, Network connection, Voice, Mouse, Keyboard, Dial, USB, SD connector, PC,  3.3V COMS battery, Battery whether charge and discharge, Full running 3D, Restart system at least two times.

  

Package:

 

To be packed in Letter, anti-static bags, wrapped by bubble bag, in carton;

 

 

SHIPPING

 

1.EMS,UPS,Fedex,DHL : Shipping limitation to website published on time shall prevail.

 

2.Post Shipping : transportation time is long,if you need the goods urgent ,please don't choose this. And ,these Post delivery may not be tracked and may result in delays or lost parcels.

 

3.If you are from Russia,Please choose EMS and China Post Air Mail. Because other Express probably be returned to the Customs. The key is you should tell me your full name , Detailed Address,thanks .

 

4.If you are from Brazil,please tell me the CPF or CNPJ,without it,the goods will be returned by the Customs.

 

5.Please inspect the quality and condition of the merchandise especially LCD LED glass screen before make signature on the Airway Bill. If the merchandise is broken during the transportation, please report it to local courier for compensation.

 

6.Note: Shipping costs shown include fuel surcharges. Import duties, taxes and other customs related charges are not included. Buyers bear all responsibility for all extra charges incurred (if any).

WARRANTY

 

1.We offer 30 days warranty for our products .After you receipt goods please test at once, if it has problems please contact us and return to us within 14 days at your expense, after 14 days we don't offer full refund .

 

2.We are responsible for exchange and send another to you by Air Parcel or DHL. but we may ship another one after we receive the one you send back .

 

3. If you need ship cargo back and ask refund (goods working but you want send back), we may just refund you the cargo , won't refund the shipping fee, please understand !

 

FEEDBACK

 

1.Your satisfaction is our goal. If you are satisfied our products and service, we sincerely hope you can  leave us positive feedback with all 5 stars , which is very important to the growth of our small company ,thank you in advance !

 

2. If you are not satisfied, please contact us via Ali- Message before leave neutral or negative feedback ,We believe any problem can be resolved by open and friendly conversation.

 

3. Items can be returned for exchange within 7-14 days.

 

4.Defective items must be reported within 7 days upon receiving the items.

 

5.Defective item must be returned within 7-14 days from the date you received your order.

 

6.Do not accept the miss order return, and no refunds allowed.

 

7.Returned items must be as the same condition as received. 

 

8.Shipping/Handling/Insurance costs are not refundable.

Please complete the RMA form for any return items.

 

NOTICE

 

1.    we also accept paypal payment .if you need , pls contact us and i'll tell you our paypal account , or you can see it in store home page .

 

2.    When you pay for it, make sure give us correct details, such as receiver name, address, post code, city name, telephone number , thanks!

 

3.       Our bussiness time is 9:00 am -20:00 pm, from Monday to Friday,in BeiJing time , I'll response you within 24 hours ( exclude weekends and holidays ) , please wait patiently, thank you so much  !

 

4.       Before we send out , we will test it again to sure our customer will get working perfect one
Very interesting! Opens up for some great DIY TB3 eGPU enclosures! Do you know what connector/how to connect it to a standard (maybe modular) ATX PSU? 😀 
//fraannk
Holy cow thats awesome. And it also has the extra PCIe slot for an add in card...
Yes, not a Razer Core X Chroma board as differs from @itsage's teardown pic shown below. Opening post changed to note this.
@eightarmedpet, indeed a x4 PCIe slot, though facing the opposite way. Just remove the PCIe bracket to fit it in.
Yes, it seems to be from the Razer Core V2 based on the PCB's in this photo.
Should still mean that it's based on the dual Thunderbolt controllers.
EDIT: Does anyone know if the USB and ethernet controllers are different from the Core X Chroma compared to the V2? Other than PCB layout? 
This post was modified 2 years ago
@nando4 is this better than the ADT-Link R43SG-TB3?
Pros of Razer Core V2 board over ADT-Link R43SG-TB3
1. cost: US$70 vs US$120+
2. power deliver: 65W vs 0W (maybe 15W bus power)
3. optional daughterboard for I/O ports vs none
4. additional x4 PCIe slot vs none
Pros of ADT-Link R43SG-TB3 over Razer Core V2 board
1. shipped with a TB3 cable which costs US$30+
2. can be split off in ADT-Link R43SG M.2 eGPU adapter and NVME SSD adapter to be used independently
3. Has 220W Dell DA-2 AC adapter input power port
4. has legs and brackets so is out-of-the-box ready to be used as a self-standing desk unit
To do: Create my signature with system and expected eGPU configuration information to give context to my posts. I have no builds.
.
Yeah a really good deal !
I'm really new here, but checking everything to build a DIY eGPU asap.
I was on my way to buy the ADT Link.. but I'll order this Razer Core V2 board this evening.
@lefuturdelavenir, You think you'll be able to help me for the PSU ?
Using the Dell DA-2 can be possible ?
Woop woop 😀 
EDIT : Do you think the USB+RJ45 is a good deal? Having those those connector will be a really good thing !
This post was modified 2 years ago
To do: Create my signature with system and expected eGPU configuration information to give context to my posts. I have no builds.
.
Nice project ! I would go for this board too.
Sure thing for the help.
Sadly you can not usr Dell DA-2 easily. The board need 12v but also 3.3v and 5v. The easy way is ATX.
I still have my initial cable I used in the pic below. If you want it I can give it to you.
Having USB ports is a good thing, especially in that dual controller situation where USB is reliable.
But the ethernet controller on the original daughter board is shitty, unusable at gigabit.
You can also plug a USB controller card like that: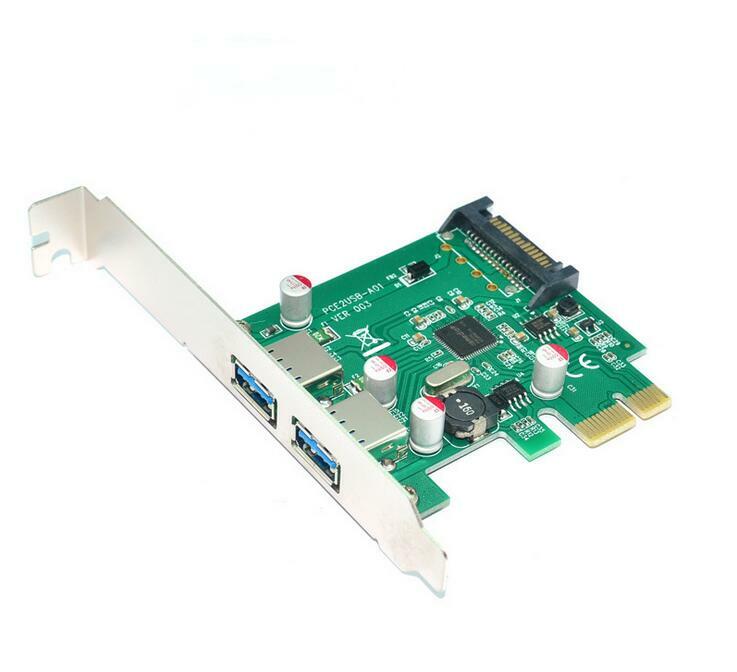 To do: Create my signature with system and expected eGPU configuration information to give context to my posts. I have no builds.
.