M.2 Key-M(female) to key-B(male) adapter for Thinkpad t440p+ADT R43SF(M.2 key-M)
hello 
I am trying to find an adapter that converts m.2 key-M to Key-B so that I can connect the ADT R42SF m.2 to PCIe adapter to my thinkpad t440p. I have found a adapter that does the right opposite. I don't understand why the chinese haven't mass  produced these yet(maybe they did but I am being a blind idiot). if someone can send me a link to this adapter I will be really happy and if I am missing something and it is not going to work can someone please explain why. 
M.2 key-B to M.2 key-M -  https://www.amazon.com/Sintech-Adapter-Replace-Sandisk-Ultrabook/dp/B00MC9IH4S -
I need the ports to be switched(male m.2 key-b & female m.2 key-m)
---
thinkpad t440p M.2 slot
Key-B is usually used for SATA, but lenovo is using this slot for WWAN cards so I am pretty sure they use PCIe for that.
---
key-b & key-m differences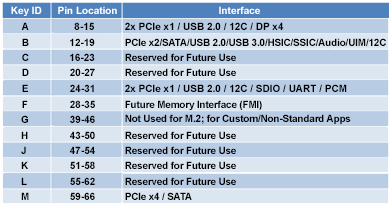 1. WWAN is USB 
2. male m.2 key-b to female m.2 key-m is not really possible because the latter presumes 4 PCIe lanes while the former provides two. Of course there are laptops like the T470/T25 (mine) which only have two PCIe lanes in their m.2 key m slots, so it should be possible but no one produced such a gimped adapter.
The T440p has an A and a B key m.2 slot (source) and you could give up the WLAN card (and use an USB WLAN instead) and use either https://www.ebay.com/itm/222772775554 or more expensive but better quality  https://www.ebay.com/itm/252826344550
hello chx
thank you for the reply
even if the adapter is gimped it is not impossible. I decided to design my own PCB. I don't want to use m.2 key A/E because it is 1x(4gbps), I want to get 8gbps(2x) atleast. if lenovo routed the PCI-E lanes to the m.2 slot then I might be able to finish this small side project of mine.
hello Woka
I am still working on the project, but I am taking my time. after researching for a while I found someone making EGPU work on a m.2 key B slot.
first I found a video(YT) of someone trying to make it work, but fail. after that I found this link from hackster.io in the comments of the video where someone managed to make a gtx 1060 work with a m.2 key B slot. they do this by cutting some unnecessary  pins from the m.2 key M(unnecessary for EGPU) and turning the PCB into a m.2 key M+B.  I did not want to spend 40$ on an adapter just to test so I bought a cheap 1.5$ adapter from eBay. when It arrives from china I am going to test it and see if it works. I will keep this thread updated.
Hello joevt
the adapters you have listed look like the easiest way to make it work, but the 120$(the only price I could see on that site) is a bit too high.
I was planning to use the adapters from ADT. their adapters are simple and you can buy them in different lengths [Aliexpress & Taobao].
I am not planning to have an adapter hanging from my laptop. I want to have a PCIe slot at the side of my laptop where I will plug a longer cable going into the EGPU enclosure. I will use a ADT R42SF (probably 15 or 20 centimeter option)
@bossunselo , it's worth noting the ADT R42 price difference between Beststar (aliexpress) and the ADT store.  The ADT store becomes better value for the 40cm cables or longer. A 45cm R42 sells for US$65-shipped at the ATD store or a 60cm cable for US$70-shipped. These would be quite a bit easier to handle than your intended US$48 20cm cabled version from Beststar.
R42 cm |Beststar | ADT
=======+=========+========
10cm   | $39     | $50
15cm   | $45     | $55
20cm   | $48     | $55
25cm   | $52     | $55
30cm   | $56     | $60
-------+---------+-----
40cm   | $70     | -
45cm   | -       | $65
50cm   | $79     | -
60cm   | $95     | $70
80cm   | $125    | -
100cm  | -       | $80
hello @nando4 
Thank you, this saves a lot of time for me and people who were following this thread. if my test with 1.5$ adapter works I will get an ADT adapter. and your list will help me a lot. thank you again
It's great that there's still the hope to build up a good egpu setup on the T440p. With a quad cpu is a very capable machine.
I'm really looking forward to reading the outcome of your tests!
By the way, don't you think that a further step could also be also to solder the missing m2 keyB slot on the motherboard (for example I'm actually using the WWAN m2 keyB slot for a SSD at the moment).  I disassembled my T440p once and I noticed the unpopulated place as well. You can see it in this picture on the right side of the SD card slot.
In any case I'm really excited to hear some news about your tests. I really hope that you will receive the adapter soon!
Thanks for your reply @bossunselo!
I indeed already have a t450 touchpad at home (I bought it last year to install it on a T440p) and 3 different T440p one of which is already taken apart.
I would gadly install a m.2 slot on the motherboar if I had a hot-air rework station. I'm planning to buy one soon but at the moment i don't have any spare time because of my job.
It would be great to have another M.2 slot on the T440p by soldering the missing slot. Big kudos if you decide to try when you will install the new trackpad. We still don't know if the pci-e lines get to the slot, but still, just being able to add another ssd would be very useful to me.
Some people even believe that it would be possible to connect an additional M.2 slot (originally used to host a SSD cache drive) trough a daughterboard. Look at this thread I opened on reddit.
By the way I believe that, for the moment,  if could succeed in connecting the eGPU to the m.2 key-M we would achieve the most important result. It would be just great!
hello @woka
I found these T440p Repair Schematics they are 5.5$, but they should give us the answers we seek.
this should tell us if the PCIe lanes are routed to the M.2 slot and if the second m.2 is routed. 
I also got my adapter from china 

(it uses molex for power)
but me being an idiot gave my nvidia gt 610 to my brother  😕  so I don't have a gpu to test and I don't have any PCIe cards lying around to test  😥 
I will cut the unnecessary pins soon.