M.2 Key-M(female) to key-B(male) adapter for Thinkpad t440p+ADT R43SF(M.2 key-M)
hello 
I am trying to find an adapter that converts m.2 key-M to Key-B so that I can connect the ADT R42SF m.2 to PCIe adapter to my thinkpad t440p. I have found a adapter that does the right opposite. I don't understand why the chinese haven't mass  produced these yet(maybe they did but I am being a blind idiot). if someone can send me a link to this adapter I will be really happy and if I am missing something and it is not going to work can someone please explain why. 
M.2 key-B to M.2 key-M -  https://www.amazon.com/Sintech-Adapter-Replace-Sandisk-Ultrabook/dp/B00MC9IH4S -
I need the ports to be switched(male m.2 key-b & female m.2 key-m)
---
thinkpad t440p M.2 slot
Key-B is usually used for SATA, but lenovo is using this slot for WWAN cards so I am pretty sure they use PCIe for that.
---
key-b & key-m differences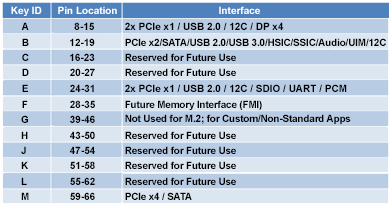 Edited: 2 months ago
1. WWAN is USB 
2. male m.2 key-b to female m.2 key-m is not really possible because the latter presumes 4 PCIe lanes while the former provides two. Of course there are laptops like the T470/T25 (mine) which only have two PCIe lanes in their m.2 key m slots, so it should be possible but no one produced such a gimped adapter.
The T440p has an A and a B key m.2 slot (source) and you could give up the WLAN card (and use an USB WLAN instead) and use either https://www.ebay.com/itm/222772775554 or more expensive but better quality  https://www.ebay.com/itm/252826344550
Edited: 2 months ago
hello chx
thank you for the reply
even if the adapter is gimped it is not impossible. I decided to design my own PCB. I don't want to use m.2 key A/E because it is 1x(4gbps), I want to get 8gbps(2x) atleast. if lenovo routed the PCI-E lanes to the m.2 slot then I might be able to finish this small side project of mine.