Radeon VII compatible with Mac?
Macbook Pro 13" i5/16/512 - Sonnet Breakaway Box 550 with Radeon VII - Xbox One X - PS4 Pro - Nintendo Switch - Sony KD55X8505 - Denon AVR-X1300W - Klipsch - Klipsch R-115SW
iPhone 11 Pro Max 256GB Midnight Green / iPhone X 64GB Silver - iPad Pro 128GB LTE - Apple Watch Series 2 - Synology DS218+ - Xbox Live ID: Iron Breed PSN - ID: IronBreed
I am using a Radeon VII in a Razer Core X running on macOS Mojave 10.14.6
The fans run wild when you select Sleep from the Apple menu.
However, if you let the screen saver appear and time out, the Mac goes to sleep by itself and the fans don't run wild.
You can set the Start After parameter for the Screen Saver in System Preferences to something lower (the default is 10 minutes).
This post was modified 7 months ago
Has anyone been using RVII with much success compared to a Vega 64?
I had both and sold the former because it was a noisy, fussy paperweight. Vega works great [for CS:GO etc] but honestly I don't touch it, the Vega 20 in my rMBP i7 does just fine for my 38" display and all of the NLE work I do (ProRes 422/4444 XQ in Adobe Premiere, which has shitty GPU optimization anyway).
So, like a year and a half after its release, is anyone really using the RVII and loving it compared to other options? Did it ever really find its groove?
@arden_shibley, i still use it, the only issue that i don't know if it was fixed because i never put my mac mini to sleep is the fans going full speed when sleeping. But everything else works for me, except eGPU boot selector, but according to some people it was fixed in big sur, so i'm gonna wait for that.
Btw, it seems to be completely sold out now. 
For $549 it was a good deal.
In Barefeats testing, the Radeon VII always benchmarks the same as the Pro Vega II. 
GRAPH LEGEND

VII in 12MP = AMD Radeon VII (16GB HBM2 memory) in 2019 Mac Pro 12-Core
VII in cMP = AMD Radeon VII (16GB HBM2 memory) in 2010 Mac Pro 12-Core
Pro Vega II in 12MP = AMD Pro Vega II (32GB HBM2 memory) in 2019 Mac Pro 12-Core
RX 5700 XT in 12MP = ASUS Radeon RX 5700 XT (8GB GDDR6 memory) in 2019 Mac Pro 12-Core
RX 5700 XT in cMP = ASUS Radeon RX 5700 XT (8GB GDDR6 memory) in 2010 Mac Pro 12-Core
Pro Vega 64 in iMP = AMD Pro Vega 64 (16GB HBM2 memory) in 2017 iMac Pro 8-Core
TEST MULES:
2019 Mac Pro 12-core 3.30GHz Xeon W-3235 CPU, 96GB of 2933 MHz DDR4 ECC memory
2010 Mac Pro 12-core 3.33GHz Xeon X5680 CPU, 96GB of 1333 MHz DDR3 ECC memory
2017 iMac Pro 8-core 3.20GHz Xeon W-2150B CPU, 32GB of 2666 MHz DDR4 ECC memory
Basemark
Ran the Metal test in High quality. (HIGHER Score = FASTER)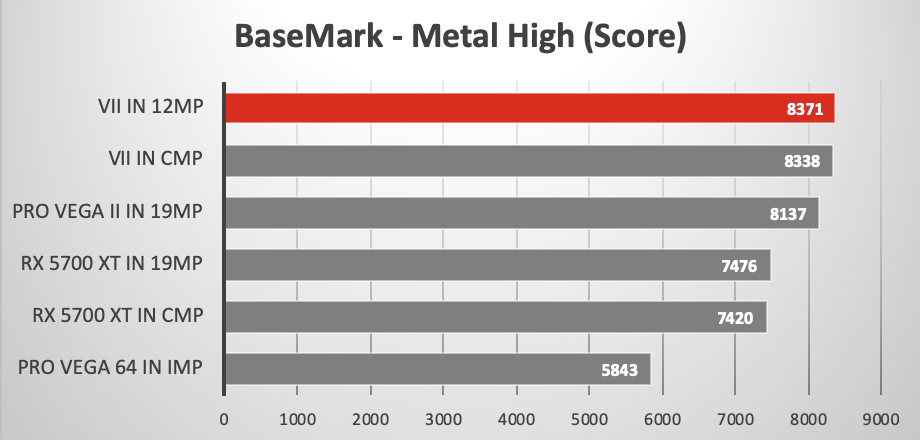 WHAT DID WE LEARN?
Basemark gives the Radeon VII a slightly higher score than the Pro Vega II and a 12% higher score than the Radeon RX 5700 XT.
Has anyone used 10.15.6 w/ the Radeon VII yet? Has the fan/sleep issue been fixed with the update?
2019 3.2 GHz 16-Core Intel Xeon Mac Pro / 96 GB RAM / Radeon Pro W5700X / 8TB SSD (RAID 0) / macOS 10.15.6
Has anyone used 10.15.6 w/ the Radeon VII yet? Has the fan/sleep issue been fixed with the update?
Just set up a 2019 iMac running 10.15.6, Razar Chroma with Radeon VII. First thing I noticed was no fans when I shutdown. Don't know about sleep because I just let a screensaver come up but don't sleep my system. 
I set the iMac up with all externals unplugged then plugged all the drives in and that worked so I ran the T3 connection to the Razer and both external monitors (both 4K) came to life without issue! Cant remember if it was post boot or during boot to log-in screen.
I haven't noticed any odd behavior from the eGPU connected monitors or the GPU fans.  I do have an issue where the HDMI output goes to the Pioneer Elite Amp then to the external 4K TV monitor for video playback.  I got surround sound out of the Mac in Midi settings but cannot get a picture on the TV.  Direct plug from the eGPU HDMI plays nice with the TV so I'm trying a different amp maybe tomorrow.  I think there's some incompatibility with the signal delivered from the Radeon VII as received by the Pioneer.  Direct plug of the 4K TV says 3840 x 2160 in 'about this Mac' so the monitor accepts the signal.
Now I'm searching for Win Bootcamp setup for same
This post was modified 6 months ago
NEW = 27" 2019 iMac i9, 1Tb SSD, 128gig ram, Tb3 port to OWC Thunderbolt3 ProDock to OWC Helios PCIe for eSATA, Tb3 port to Razer Chroma w/AMD Radeon VII, connected via DP to 32" 4K monitor and via HDMI to 47" 4k TV Monitor
Internal Vega 48 for iMac display
OLD = Mac 2013 nMP 12 core Xeon, 48Gig RAM, 1Tb SSD, AMD FirePro D500 (2) internal GPU
eGPU --> Razer Core X Chroma, AMD Radeon VII, attached through T-bolt3 to T-bolt 2 adaptor attached to T-bolt bus0Port6
A little more info because it might help..... I purchased Cable Matters Active T3 cables and am using those for all T3 connections. Do not remember which T3 port goes to what circuit but the chain is this....
T3 port——->OWC Thunderbolt2 ProDock ——->OWC Helios
T3port ——-> Razer X Chroma
The fan issue for me was on shutdown of my 2013 MacPro they would run full speed  I'm pretty sure they would in sleep mode too although, as stated above, I don't let my computer sleep (there will be time to sleep when she's dead 😉
im pretty sure the new iMac had sleep enabled at first and the fans did not run  I can check this easily enough and report back.
As an aside I wanted the Thunderbolt3 ProDock for the 10gbe connection for my NAS. I'm getting 860mb/s writes and 1000 mb/s reads. Happy camper here 😎
This post was modified 6 months ago
NEW = 27" 2019 iMac i9, 1Tb SSD, 128gig ram, Tb3 port to OWC Thunderbolt3 ProDock to OWC Helios PCIe for eSATA, Tb3 port to Razer Chroma w/AMD Radeon VII, connected via DP to 32" 4K monitor and via HDMI to 47" 4k TV Monitor
Internal Vega 48 for iMac display
OLD = Mac 2013 nMP 12 core Xeon, 48Gig RAM, 1Tb SSD, AMD FirePro D500 (2) internal GPU
eGPU --> Razer Core X Chroma, AMD Radeon VII, attached through T-bolt3 to T-bolt 2 adaptor attached to T-bolt bus0Port6