2018 Intel NUC8i7HVK [8th,4C,G] + RTX 2080 Super @ 32Gbps -TB3 (ADT-Link R43SF * M.2-TB3) + Win10
Hi all, been a long time since I started going to eGPU route.
Now, I that I have the time to game, I'm updating my eGPU setup from HP ProDesk Mini with GTX 1060 (here) to Intel NUC8i7HVK.
I'm still waiting for my 2080 Super FE to arrive on Monday (No luck for 3080, couldn't wait any longer as I only have <2 months before I start working again).
So here it is right now, without the GPU. I'll update this thread after I have my card. I will also have the ADT-Link R3G TB3 in my possession sometime next week, so I can test the performance penalty of TB3 vs M.2 using this build.
So it's finally here, I have the GPU and the ADT Link R3G TB3. Unfortunately, I haven't been able to establish the TB3 connection, not sure whether this is my NUC at fault or just faulty TB3 to NVMe adapter. I bought the whole thing off of eBay Auction for GBP 24 (brand new). I've also tried to use my laptop with it to no avail. Additionally, also tried putting NVMe drive inside the adapter and the thing still wouldn't connect. TB3 driver, as well as Control Center, are already installed. Connecting the TB3 enclosure to PC triggers TB notification, but only showing port 1 & 2 without showing device connected. I will have to troubleshoot this sometime later. For now, I'm attaching the benchmark using M.2 interface.     
The Setup
- Intel NUC8i7HVK [8th,4C,G] i7 8809G with Vega GH
- RTX 2080 Super FE
- ADT-Link R3G TB3
- Gamemax Vertical GPU mount (Include x16 riser cable)
- 650W SFX Modular Power Supply
Benchmark
This topic was modified 3 months ago
@ciforia, What an ingenious idea to use the vertical GPU mount as both a base and mounting bracket for the PSU! If the ADT-Link adapter cable is long enough, you could go without using the extension cable and mount the NUC on top or to the side of PSU. We're looking forward to seeing the final results.
@itsage Yes I initially wanted to go for 3d printing service, but it ended up much more expensive than retail eGPU enclosure. This is a good compromise in between, as it also ended up much cheaper. I can probably laser cut acrylic sheet to create a fully-covered enclosure to go with the metal base, but that would need additional fans to help airflow. And I kinda like the cooler design so I think I'm keeping it this way for now. 
I can probably put the NUC under the metal base, but that would increase the height footprint and prevents my monitor to be positioned lower as the GPU would get in the way for the monitor arm. I think the most ideal situation would be to mount my NUC under the desk to get a more clean setup.
This post was modified 3 months ago
@ciforia, I like a bare looking GPU too. Your current arrangement of the eGPU and NUC is very nice. Thank you for sharing this build!
December 22, 2020 6:10 pm
hi
it is interesting what's the difference in performance between connecting through TB3 and M2.nvme, since the diagram shows that TB3 is not directly connected to the CPU, only through the PCH HM175 hub, like the M.2 slots too, so as result the DMI is a bottleneck for both connections.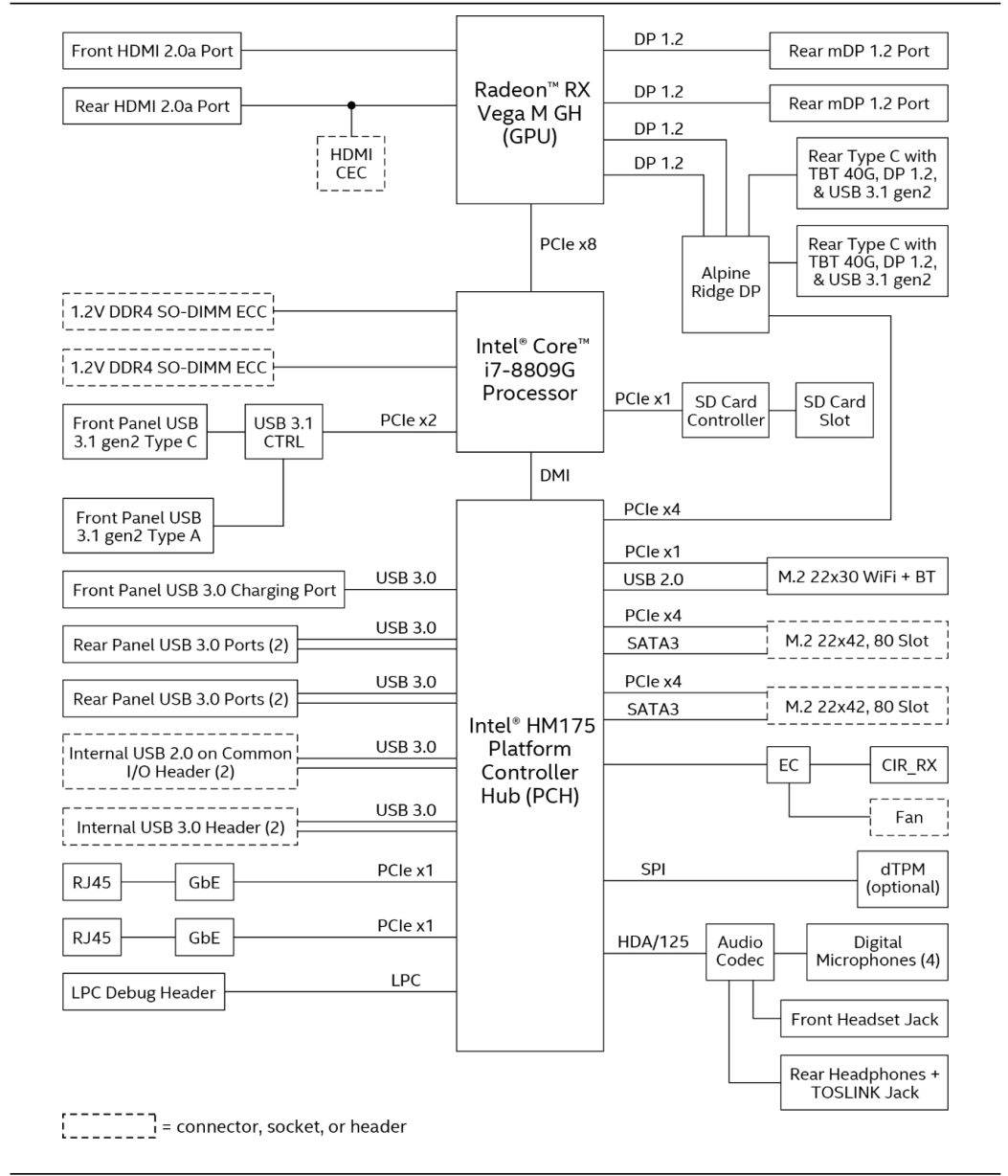 thanks!
This post was modified 3 weeks ago
To do: Create my signature with system and expected eGPU configuration information to give context to my posts. I have no builds.
.