GTX Titan Xp + Razer Core X + HP Spectre x360 2-in-1 (Late 2019) - Experience and Issues
November 4, 2020 11:42 pm
Hello eGPU forum members.
I've finally joined the eGPU crowd, managing to pick up some fairly good components fairly cheaply second-hand, as everybody rushes to make way for the RTX 3000 series and AMD 6000 series cards. I've been following eGPUs for a while, and now that I have a decent laptop with two 4x Thunderbolt 3 USB-C ports, and my life is still considerably mobile (and lightweight)... I finally took the plunge. First up, a big thanks to everybody who's contributed on eGPU.io over the years. Made choosing and ending up with something good far, far easier for me. Thanks!
So, what can I say? After picking up the Razer Core X and the GTX Titan Xp, all it took was bringing them home, plugging them in to each other, plugging in one cable, and everything just... worked! At least for a little while. Plug 'n' Play or so I thought... I also bought a 2TB SSD second-hand at the same time, and decided to reinstall Windows 10 with WSL2 from clean install, and from then on, the woes began.
As of a few days ago, with the refreshed setup, I've been getting some fairly annoying issues. These are mostly due to the screen flickering quite quickly and sporadically with black screens. Usually, after the computer goes to sleep and wakes up again - I believe it has something to do with switching or conflict between the Intel integrated graphics, and the Nvidia graphics over thunderbolt - or sometimes when switching between apps. Another possiblity is that this flicker or strange dimming and brightening occurs due to knocking the cable lightly (changing the power mode?)... or because of some HDR settings?
The other main annoyance is that this PC has a really great 4k OLED screen, which is capable of HDR lighting, but cannot properly use it with an eGPU setup. I've turned HDR on in windows, which is great when watching movies or editing in 3D (though a little harsh otherwise). However, games do not recognise that the GTX Titan Xp is connected to a monitor (as the display output is just looping back via Thunderbolt and there are no cables plugged in to the graphics card ports directly), and the games therefore gray out the HDR settings. I'm not sure if it's somehow possible to configure the computer to recognise that HDR is possible, as the thunderbolt is displaying to the internal display? Is there a way to recognise HDR over thunderbolt?
Also, since I'm not using the graphics card outputs, but rather, piping back to my internal display via the same cable (crazy to realise there's 100W of Power Delivery and a GTX Titan Xp worth of electrons rushing through that thing. So scared to knock the connectors...
This year, I've had quite some issues with Blender and Unreal Engine, with major Windows updates and Desktop Windows Manager bugs causing lots of crashes between those two applications.
Note: I'm using both the Nvidia CUDA on WSL Drivers and the Intel WSL Beta Drivers in anticipation that I'll be able to greatly reduce my compute times for data analysis... and maybe even run some Linux GUI apps when that finally gets implemented on WSL2.
I use my computer for reasonably heavy workloads, considering it's just an ultrabook without dedicated graphics. Mainly Blender and Unreal Engine for 3D work. Machine learning running scripts for hours overnight, on Linux. I use Throttlestop, undervolting the CPU core and cache, and iGPU to get the most out of this machine. For now, I can say that it's working like a dream. I'm amazed how far you can push an ultrabook with an eGPU... and I'd vouch for the HP Spectre x360 2-in-1 (Late 2019) with 4k OLED + Razer Core X if anybody is considering that combination. If only these instability issues could be ironed out, then I could truly enjoy Ultra High Quality HDR gaming without having to worry about restarting my PC once the thunderbolt connection becomes shaky. The minute it starts, it's just a matter of time and losing patience before the flickering gets to me enough to have to shut down.
Well, if anyone has tips on how to solve any of these issues, please share. I'd really appreciate it!
Thanks
Thanks for the great post.  A surprising number of members have reported a new standard 18" TB3 cable fixed their setup. 
Seems too simple. But it has worked for others here.
November 6, 2020 11:52 am
@mini-i5, thanks for the recommendation! I'll have a look.
Also realised that the flickering actually stopped (at least this one time) when I switched Windows HDR setting to OFF. This is somewhat annoying, as I'd really like to be able to use Windows HDR for rendering... but also in games, which means that I would also need to somehow get the computer to recognise that my eGPU is actually outputting to the internal display so that HDR settings are not grayed out. Since it is looping back over USB-C Thunderbolt, rather than via a Graphics Card output, I guess the nvidia drivers don't tell the computer that there is an available HDR display output when it comes to games (even though it works [with great instability] on Windows Explorer).
...hmmm how to add an image to this post? Says file is over 2MB but... it's not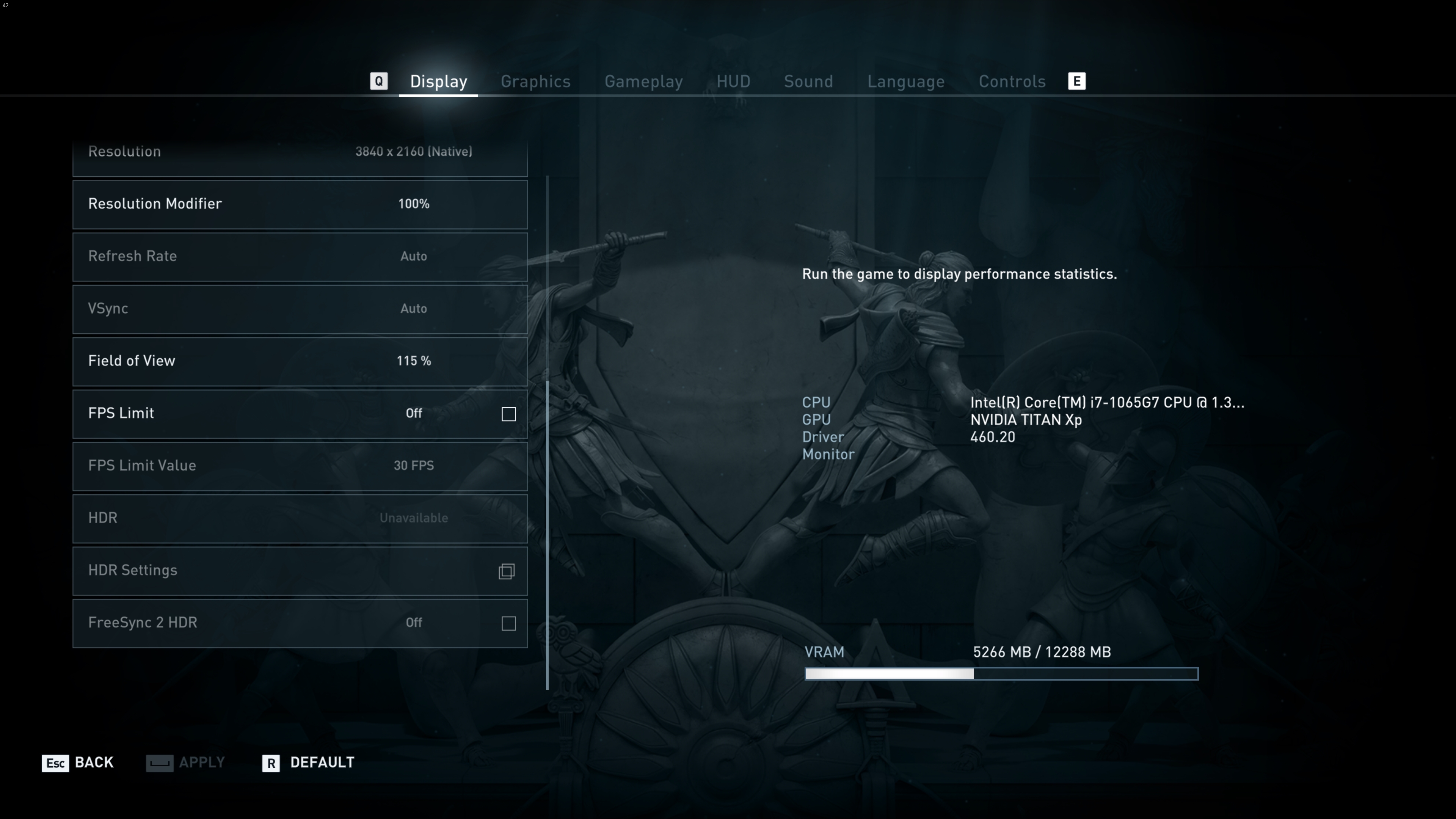 This post was modified 2 years ago
Things I've noted... I originally couldn't access nvidia control panel (like this)... but somehow I managed to glitch it into opening. The first time involved disabling one of the display adapters, then opening nvidia control panel at the right time, from the start menu (not the system tray). The most recent time this happened, what worked is that I hotswitched the eGPU (not hotplugged) - i.e. I had my computer running with the eGPU thunderbolt cable plugged in... and switched the Razer Core X on, while running. My screen brightened (probably because of battery saver turning off due to the USB PD powering it... and then I opened nvidia control panel from the start menu. I was then able to access all the app-specific settings.
Note: this is also with Hardware Accelerated GPU Scheduling turned on in Windows settings. Note: if you turn on 'Desktop -> Enable Developer Settings' while it's open, you'll be able to open it from the system tray. However, in general, I find that opening from Start Menu works best.
I really want to get my internal display working/recognised so that I no longer need to worry about nvidia control panel disappearing, and so that I can run HDR in games. I read about Nando DIY eGPU setup 1.35. Does anybody know if this will do what I'm looking for?
From here, I found something that does exactly what I need, but for MacOS. Made by a member/moderator of these forums @mayankk2308 mayankk2308
Does anybody know of an alternative to set-eGPU.sh for Windows?
There's also something like bidirectional displayport to USB-C cable. Would plugging this in from my graphics card in the eGPU, back into the computer enable the display to recognise the adapter? Or would this be kind of stupid and blow something up? It seems like it shouldn't be necessary...
Note: If anyone has similar issues, please upvote this bug report on Microsoft Feedback Hub: https://aka.ms/AAa80vf
What's the full specs of your HP Spectre x360 2-in-1 (Late 2019)? Which Windows 10 version is it running? You can use the eGPU for loopback acceleration to the internal display through Nvidia Optimus by default if the laptop only has Intel iGPU. Otherwise you can use Windows Hybrid Graphics to specify the eGPU as the performance card so that apps and games would use it. Nvidia Control Panel does not open unless you have a monitor connected to it. 
@itsage The full specs are attached. I'm running Windows 10 64-bit Home Edition, 10.0.19042 Build 19042 aka 2020 October Update. I am also running WSL2 (Windows Subsystem for Linux) and using the WSL compatible display drivers from Intel, and also the WSL compatible drivers from nvidia. Yes, the laptop only has iGPU (Ice Lake integrated graphics).
"Windows Hybrid Graphics to specify the eGPU as the performance card so that apps and games would use it"
By this, do you mean Settings -> System -> Display -> Graphics Settings where you can then switch on Hardware Accelerated GPU Scheduling and Graphics Performance Preference for different apps? Or, do you mean the settings in nvidia control panel where you can choose app-specific or global preferences?
I have actually managed somehow to switch on Nvidia Control Panel without an external display, following the steps I noted above:
This post was modified 2 years ago