US$234 HighPoint RocketStor 6361A Thunderbolt 2 PCIe (16Gbps-TB2)
February 16, 2017 11:54 am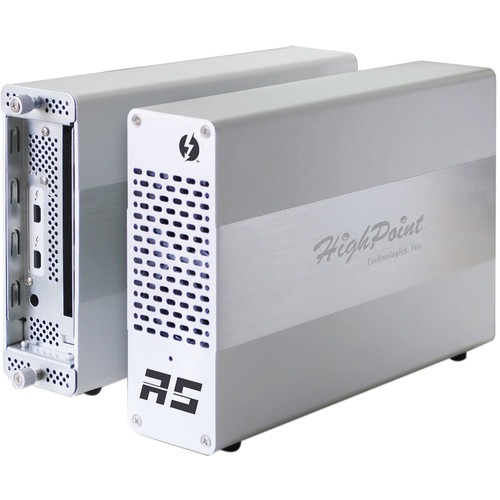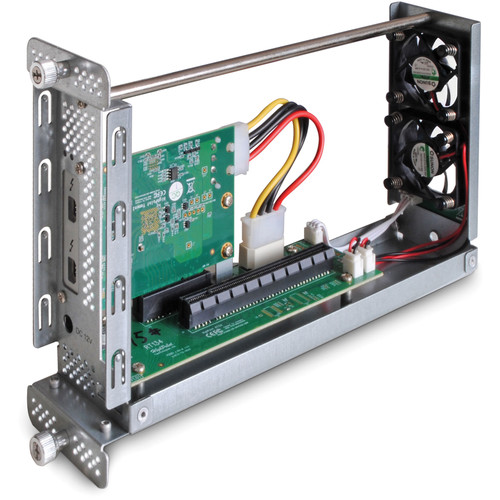 ---
Rugged, Ultra-Slim Aluminum Enclosure

Dual Thunderbolt 2 Ports

Supports one full height, up to 7.87" length x1, x4, x8 or x16 PCIe card

Dual Ultra-Quiet, High-Efficiency Cooling Fans

Easy Plug and Play design

Daisy-chain up to six Thunderbolt 2 or Thunderbolt devices

Supports Mac Platforms and OS X 10.8. and later

Dimensions: (HxWxD) 6.5 x 2.3 x 10.3" / 164.8 x 57.9 x 261.4 mm
Weight: 4.0 lb / 1.8 kg approximate
---
US$234 Amazon-US, US$234 bhphotovideo-US
---
I found this PCIe expansion box - its the best to fit inside:
Zotac GTX 1080 MINI (

Power Consumption: 

180W / 

Card Length: 

211mm x 125mm )

Zotac GTX 1070 MINI (

Power Consumption: 

150W / 

Card Length: 

210mm x 122mm )
With this, GTX 1080 Mini and DA-2 220W external power - you will get the best and the most powerful mini eGPU!
---
User from Amazon:
What an excellent device for a good price, used it to set up an eGPU for my 2015 MacBook Air. It worked like a charm and I love its slim design. Currently running a Zotac gtx 1070 mini which fit inside this unit perfectly. Able to play all the newest games at 60FPS on high settings for nearly every game.
February 16, 2017 1:20 pm
This does not add up. The Zotac GTX 1070 MINI GPU is double wide and 8.27"/210mm long. The space inside this enclosure can accommodate upto 7.87"/199mm long.
Unless you modify the enclosure, I don't see how it would work.
February 16, 2017 1:41 pm
@itsage - I think he removed the fans (they are at least 2cm) and also not so quiet from what i read!
I really think to use this PCIe case in future, i also make my "idea project" via Photoshop, its look amazing and with Zotac 1080 Mini inside will be beast + DA-2 220W!
edit: i also think that Zotac give us the full size, but RockerStor give us the space so:
February 16, 2017 3:13 pm
The Rocketstor enclosures do not allow dual-slot cards. So while removing the fans might make the card fit length-wise, you still can't close the enclosure over it. They make good donor boards for self-built enclosures, but they are not good if you want to use them as-is.
February 16, 2017 3:57 pm
lol i missed that it's just - 57.9mm lol, yes we can't close it 🙁 
Any laptop with the Alpine Ridge LP controller won't have more than 20Gbps bandwidth anyways. And physically this is the smallest device at least so I think. The only question is that if someone were to feed this with a 12V 8A power supply, would it run a 75W card? Single slot RX 460 or similar.
Lenovo ThinkPad 25 -- GALAX SNPR TB3 1060 -- Lenovo Graphics Dock -- Benq BL2411PT - - two PackedPixels - Dasung not-eReader backer