Ultrabook Buyer's Guide: Best Laptops for External GPU
There are two more that might need consideration.
1. Samsung Notebook 9 15.
You might think this would not be a contender, but a Windows Central reviewer stated it as 4-lane Thunderbolt 3 here:

Even though it has an MX150 discrete GPU. I did a lot of investigation to try to get some clarification somewhere about this, and I found this nugget on the Notebookcheck review ( https://www.notebookcheck.net/Samsung-Notebook-9-NP900X5T-i7-8550U-GeForce-MX150-Laptop-Review.287284.0.html ). You would think with an MX150 dGPU that it would have a 4-lane implementation since that's the physical wiring, but on inspection of this review it looks like the MX150 is configured as 2-lane, possibly lending credence that they saved 4-lanes for the TB3 port.  Here is proof that the MX150 is configured in an x2 PCIe fashion: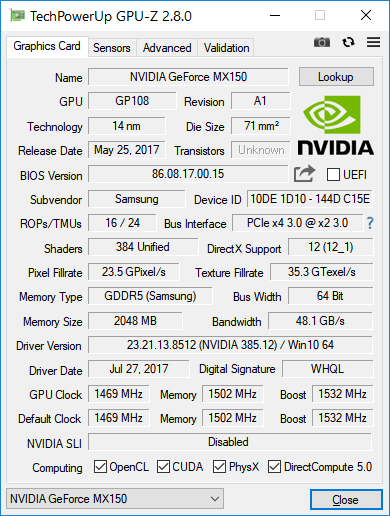 There is some solid hope here that this svelte 2.8lb notebook has a proper TB3 implementation as stated. I noticed that my 1080 in my current notebook doesn't cut the lane width in power saving only the data rate, so hopefully this is hard wired to 2-lanes.  Also, since it has a dGPU in there, there's a pretty beefy shared cooling solution as the GPU and CPU are on the same heatpipe, fins, and fans. So if only the CPU is being stressed it has plenty of cooling to keep the clocks up. A repaste on this would probably help it maintain some pretty impressive boost clocks while only stressing the CPU.
2. LG Gram 15 (this was previously mentioned in the thread).
It is proven that the TB3 on the more expensive model with an i7-8550U is 4-lane. The problem with this unit is that the cooling is extremely poor and it can hamper it's use for gaming with an eGPU, as seen here: 

There is hope, however, as one user did a TIM reapplication to theirs and it no longer throttled. Seen here:

No idea what TIM was used, probably Grizzly Kryonaut. If this truly fixes throttling, it might make the LG Gram 15 a real contender. 
I'm leaning towards the Samsung, as it would kind of be nice to have the MX150 on the go, as long as we can definitively prove it's using 4-lane. But it's really nice to see that these two sub-3lb ~15" ultrabooks are possible contenders.
@odin Thank you for sharing. Once we have build guide with screen captures of AIDA, CUDA-Z and HWiNFO to confirm the x4 PCIe connection and OPI 4 GT/s we'll add them to the tables.
Looking at the connections on a Thinkpad X1 Tablet 3rd Gen. The root looks like a proper 8 GT/s, as is the NVMe, but the card, 750 GTX in an Aorus 1070 Box, it looks like it's connected at 2.5 GT/s.
Could the TB3 on these tablets be a bit nerfed? Or is the current card/box just not needing the full speed.
@veriestvarlet If there's no load the link speed can drop to 2.5 GT/s. Can you download and run AIDA64 to ensure it's in OPI 4 GT/s?
Not too familiar with benchmarking with AIDA64 but starting up a game and reran HWINFO, low and behold the connection is full speed. Looks like the Thinkpad X1 Tablet 3rd Gen is a good option. 
I worked with an extremely helpful person over on the notebook review forums that owns a Samsung Notebook 9 15" version with the MX150 dGPU and confirmed that the dGPU is in fact configured in x2 PCIe mode and that the x4 PCIe root port that has nothing connected to it seems to be the TB3 port. Things are getting exciting. Isn't every i7-8550U laptop that has 4-lane Thunderbolt 3 also OPI 4GT/s? I thought the 8th Gen U CPUs all used OPI by default for their 12 lanes. Intel's spec sheets seem to state this. Not sure why a 4-lane TB3 port would not use 4GT/s OPI with these CPUs. Has that been the case on any existing notebooks with these 8th Gen U CPU?
The proof:
http://forum.notebookreview.com/attachments/upload_2018-8-16_14-46-18-png.162570/
I see that the HP Spectre x360 with an i7 processor has been mentioned in this list. I would like to buy an HP spectre but my budget allows me an i5 model only. Can someone please confirm if it would be eGPU compatible or not?
"Intel released 8th-generation 6-core (hex) Q 45W CPUs. These come packaged in laptops with larger chassis to accommodate more substantial cooling systems, coupled with bulkier power supplies to drive them. A bigger package that packs a bigger punch. It's definitely worth the performance advantage if you can trade portability for performance."
Can someone clarify if that is indeed the case? I've read in several places that despite the expected performance gain, 8750H based systems don't perform as well as 8550U based ones in eGPU scenarios. And if so, what might be the reason? Something related to the dGPU or perhaps a lack of optimization?
Thanks in advance =]