Best Laptops for eGPU - March 2020 Ultrabook Buyer's Guide
There are two more that might need consideration.
1. Samsung Notebook 9 15.
You might think this would not be a contender, but a Windows Central reviewer stated it as 4-lane Thunderbolt 3 here:

Even though it has an MX150 discrete GPU. I did a lot of investigation to try to get some clarification somewhere about this, and I found this nugget on the Notebookcheck review ( https://www.notebookcheck.net/Samsung-Notebook-9-NP900X5T-i7-8550U-GeForce-MX150-Laptop-Review.287284.0.html ). You would think with an MX150 dGPU that it would have a 4-lane implementation since that's the physical wiring, but on inspection of this review it looks like the MX150 is configured as 2-lane, possibly lending credence that they saved 4-lanes for the TB3 port.  Here is proof that the MX150 is configured in an x2 PCIe fashion: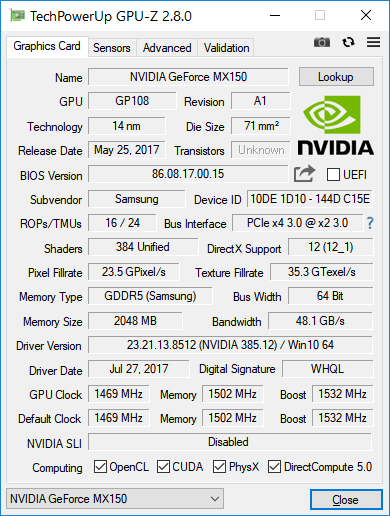 There is some solid hope here that this svelte 2.8lb notebook has a proper TB3 implementation as stated. I noticed that my 1080 in my current notebook doesn't cut the lane width in power saving only the data rate, so hopefully this is hard wired to 2-lanes.  Also, since it has a dGPU in there, there's a pretty beefy shared cooling solution as the GPU and CPU are on the same heatpipe, fins, and fans. So if only the CPU is being stressed it has plenty of cooling to keep the clocks up. A repaste on this would probably help it maintain some pretty impressive boost clocks while only stressing the CPU.
2. LG Gram 15 (this was previously mentioned in the thread).
It is proven that the TB3 on the more expensive model with an i7-8550U is 4-lane. The problem with this unit is that the cooling is extremely poor and it can hamper it's use for gaming with an eGPU, as seen here: 

There is hope, however, as one user did a TIM reapplication to theirs and it no longer throttled. Seen here:

No idea what TIM was used, probably Grizzly Kryonaut. If this truly fixes throttling, it might make the LG Gram 15 a real contender. 
I'm leaning towards the Samsung, as it would kind of be nice to have the MX150 on the go, as long as we can definitively prove it's using 4-lane. But it's really nice to see that these two sub-3lb ~15" ultrabooks are possible contenders.